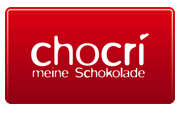 Chocri is a German startup (founded about a year ago) that customizes chocolate bars.   By combining a base chocolate with your choice from over 90 toppings, there are more than 10 billion possibilities to create the chocolate bar of your dreams.
Chocri was founded by entrepreneurs Michael Bruck and Franz Duge in early 2008.  It was Franz who had the "light bulb" idea to start a custom chocolate bar company when he couldn't think of a personal gift to give his girlfriend on her birthday.  At the time, Franz and Michael were running a chocolate fountain company, so Franz came up with the idea of using the liquid chocolate from that company, and turning it into a bar, which he topped with his girlfriend's favorite snacks: gummy bears and trail mix.
When Franz's friends heard about his creative chocolate concoction, they asked him if he could make some for them too – and that's how Chocri was born.
Within the first year of launching, chocri sold over 120,000 bars of chocolate in Germany.  Currently, the chocolate can be shipped to Germany, Austria, Netherlands, France, Luxembourg.
Having achieved initial success with its German language website, the company is now expanding to the United States, launching on January 11 with a new website for the U.S. market at http://www.createmychocolate.com.
Chocri uses only fair trade and organic chocolate, and donates a percentage of its revenue to an organization that supports kids on the Ivory Coast (where their cocoa beans come from).  Customers are also encouraged to donate at checkout.
Chocri is not aware of any other  food mass customizer that has embarked on an expansion across the Atlantic.  The company is also planning to expand to Ireland and the UK in the first quarter of 2010.