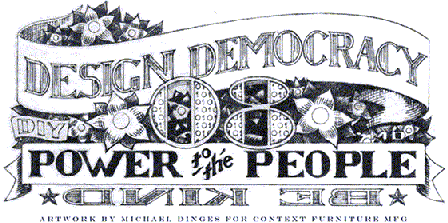 Custom furniture maker Context Furniture has launched a new website called Design Democracy '08 – Power to the People, which they describe as a grass roots event aimed at raiseing awareness about mass customization.
This website offers curriculum for DD08 'citizens' (members) to learn about mass customization processes, philosophies, materials, design elements and software/hardware applications.  Most interestingly, to prove that mass customization is a viable alternative to mass manufacturing, Context Furniture will produce and display designs chosen from this website at the 2008 International Contemporary Furniture Fair in New York.
DD08 is a symposium and not a competition – the designs chosen for display at ICFF will not be put into production by Context Furniture.  The initial focus of DD08 is in attempting to prove that there is a demand for Mass Customization.  While there is currently not a feature on the site that allows for a user to get a quote and initiate production, Context Furniture's goal moving forward is to incorporate features such as cost analysis and quoting, as well as production times for those parties interested in the realization of their products.
Each entry will be posted on the www.designdemocracy08.com website where participants can discuss ideas, rate each others designs and read articles pertaining to mass-customization, product design, manufacturing, and related software technologies.
A panel of industry professionals will review all entries and decide upon designs to be produced and debuted at the 2008 ICFF.  In addition to being viewed on the website each entry will be visually represented at the 2008 ICFF Context Furniture booth in New York City.  A "people's choice" design will also be produced as ratings from the website and on-site ICFF voting are tallied.
Context Furniture encourages everyone and anyone to participate. The design districts will include, design enthusiast consumers, students, and design professionals.  Any image, from a scanned napkin sketch drawing to a 3-D model can be entered for submission, and a Design Democracy Citizen may contribute as many designs as they choose to.
Designs to be produced for the ICFF will be selected from submissions posted before March 21, 2008.  Context will be giving the manufactured pieces to the individuals whose designs are chosen for display at ICFF as a thank you for their efforts and participation.
An interesting trend which is growing among mass customizing enterprises is a new focus on the environmental benefits of mass customization.  Context Furniture is excited about the prospect of changing from a mass manufactured model to a mass customized one partly because they find it environmentally friendly.  Mass manufacturing concepts are based upon producing and item for as cheap as possible.  Mass customization, though not the cheapest, does compete on price point, but has environmental advantages.  "We consider making a product that we know has a specific demand a more responsible way to produce, says Bryce Moore, co-owner of Context.  Kerry Moore adds, "This event is about addressing the idea of how the world interacts with the goods it creates. Mass manufacturing has been the standard for over 100-years.  Isn't there a better way, a new way?"
Kerry and Bryce Moore wrote a number of interesting articles on mass customization in the furniture sector in 2007, which were referenced on a previous MadeForOne.com post.  Their articles have been re-published on the Design Democracy website here.
Context Furniture's design process began by drawing simple outlines in graphics software applications, then translating those graphics into furniture by using laminated plywood panels, digital technologies, and CNC routers.  Context has produced three collections using these processes, from solid pieces, to component based designs, to flat-pack RTA furniture.  The versatility of the process allows for limitless design possibilities.
Designs can be uploaded to the DD08 website in a wide variety of file types.  By providing for non-digital drawings, Context Furniture has allow users who do not have access or choose not to use digital programs for designing an acceptable way to participate; these users can upload a text file to describe in accurate detail the sizes, dimensions, etc within their designs.
Of particular note is the equitable terms under which members' designs are submitted:
"We will absolutely not sell your design to a third party, because it and its copyright belong to you.  However, there is the future possibility of licensing your design for sale, if mutually desirable. That process would involve setting the terms of an arrangement with royalties and fees payable to you, the owner. You can sell your design, manufacture on your own, etc. at any time you choose with whomever you choose however you choose."
As customer-design for manufactured products is generally at a very early stage of development, comparisons between the IP terms of DD08 and other customer design sites is not realistic.  However, in the wider context of user-generated intellectual property, the DD08 IP terms are in stark contrast to the massively one-sided terms imposed by many websites that rely on user-generated content for their existence.
Presently, the DD08 contains a handful of designs across a variety of categories.  The uploading of designs is a very simple process.  Critical to the success of the initiative will be its ability to attract a critical mass of participants that will enable a momentum or 'buzz' to develop around the DD08 site and the design symposium.  Context Furniture are to be complimented on their efforts to publicise and advocate the mass customization model through the DD08 project.