An interesting idea recently covered by Springwise is custom blended teas. Blends For Friends is a British company that sells custom-blended teas, mainly ordered as gifts. The buyer is asked to provide some information about the chosen recipient, although only some basic details are obligatory. However, there are many more optional pieces of information that can be provided, which are used to increase the level of personalization in the blending of the tea and the packaging of the product. The service is as much about the person receiving the tea as it is about the tea itself.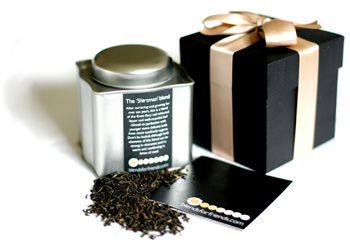 Blends For Friends is run by Alex Probyn, who worked as a master tea blender for a number of years with one of the world's leading tea brands. He became frustrated with the restricted styles and flavours of tea that he could use for large-scale commercial packs of tea. In an attempt to exploit his knowledge and to test his creative skills, he began to blend individual teas and herbal infusions for friends and family based on their personalities. The idea caught on, and now Blends For Friends offers customers across the globe the same service.
It's fair to say that the current pricing for Blends For Friends is reflective of a craft-based operation rather than one which is mass customized. Every original new blend costs GBP27 plus postage for 100 grams of loose leaf tea, packaged in a gift-wrapped tin caddy with a bespoke label referring to the recipient and the different teas used in the blend. Reorders are priced at GBP7 plus postage. In addition to individual gifts, Blends For Friends also creates custom blends for corporate clients and for weddings.
While this is an innovative idea, the price is likely to make it attractive only to very affluent consumers. It does present an interesting question though: Why has the market for tea not generated the same level of fragmentation in Western countries that has taken place with wine or coffee? The market for coffee has changed significantly in recent years, with many consumers seeking out new flavours, and a growing market for niche blends of every description. This innovation in coffee can be attributed in no small way to the massive growth of one company – Starbucks. Tea has lagged behind to a large extent, perhaps because it does not have the same level of popularity as coffee in the United States, where most Western consumer trends originate. Here in Ireland, we drink more tea per head than anywhere else in the World, so one would imagine that a 'Starbucks of tea' might originate in this country, or in the UK, where tea also outranks coffee in popularity. It is difficult to shake off the perception that 'tea is tea', and that they all taste pretty much alike. I say this from personal experience as much as any observation of trends.
Perhaps if BlendsForFriends is successful, it would serve to generate more interest in niche or custom blended teas, and might open the door to more fragmentation of the market, presenting new opportunities for artisan and mass customizing tea blenders and outlets.