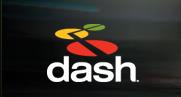 +

Dash Navigation Inc. has made a deal with search engine Yahoo! that allows Dash Express users to search Yahoo! Local for nearby products, services or businesses from their cars.
Dash Navigation is located Mountain View, Calif. and is funded by Kleiner Perkins Caufield & Byers Sequoia Capital, and Skymoon Ventures. The company says that Dash Express is the first auto navigation device that will leverage two-way connectivity and the network of other Dash devices to provide consumers with the best routes based on current traffic conditions.
When a user enters their search term into their Dash Express, the device wirelessly begins a Yahoo! Local search on the web. The results are formatted into address cards and presented to the user as a simple listing of nearby businesses. The user can then select one of the locations listed and the Dash unit will provide the route to their chosen destination.
Yahoo! Local also allows drivers to use a wide variety of search terms to get relevant results. Examples given include a Dash user who types "croissants" – they will see a list of bakeries, cafes and stores in the area that sell the pastry. Another Dash user who discovers that the local hardware store is out of a needed plumbing item could type "plumbing supplies" from their car in the parking lot and see a list of other nearby stores with directions to each location. In many cases, relevant Yahoo! Local ratings and reviews are also presented to offer users instant feedback from other consumers about merchants and services.
According to Dash Navigation Chief Executive Officer, Paul Lego, "For the first time, drivers will be able to leave their homes knowing that they can easily find whatever they need – right from their car. It's that simple."
The Dash Express is scheduled for availability in California, USA in the spring of 2007 and in the remainder of the U.S. in the fall of 2007. It follows a trend towards 'geo-personalized' services, which provide information based on a user's location rather than a set of specified preferences."Yahoo! is committed to providing innovative ways to help consumers find relevant information when, where and how they want it," said Paul Levine, general manager of Yahoo! Local. "Working with Dash takes us one step closer to that goal and provides consumers with another meaningful and relevant way to interact with our products."
For anyone attending the 2007 Consumer Electronics Show (CES) in Las Vegas (Jan 8-11), Dash Express is on display at the Dash stand on the show floor in the Central Hall, Booth #9841.
Apart from being an interesting development in the advancement of geo-personalization, this deal is also of significance because it is one area where Yahoo! has out-innovated Google. For a number of years, Yahoo! has been generally considered to be in a permanent game of catch-up with Google. For once, Yahoo! has been first to the line with a new variation on web search.