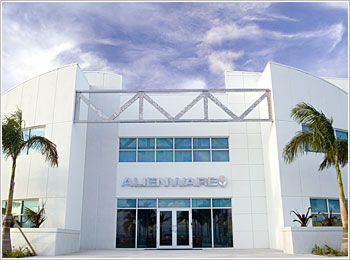 Dell, the World's largest computer equipment company, has announced that it has entered into a definitive agreement to acquire Alienware, a specialist maker of high-end customized PC's and notebooks.

Dell said in a press release that the purchase was "intended to further satisfy the growing number of consumers and businesses seeking the highest-performance PC products, including those used for gaming and multimedia digital content management". Terms of the planned purchase will not be disclosed.
Alienware has focused on building high performance computers that are aimed at gaming and other performance-hungry applications. They have also focused on providing a high degree of personalization options to both the internal components and the external cosmetics of their products.
Dell said Alienware will operate as a wholly owned subsidiary following completion of the transaction and will maintain its own product development, product marketing, sales, technical support and other operations as well as brand. The management and founders of Alienware will continue to operate the company as a standalone unit of Dell.
"Alienware's products are an excellent complement to Dell's own line of high-performance computers designed for gaming, enthusiast and media content customers. In addition to offering high-quality, high-performance products, Alienware has tremendous brand appeal with consumers and creative business professionals," said Michael Dell, founder and chairman of Dell.
"Alienware has a legacy of success designing the highest-performance PCs using bleeding -edge technologies and innovative industrial design," said Nelson Gonzalez, CEO of Alienware. "We believe that Alienware will realize significant advantages from Dell's world-class supply chain and operational efficiencies. They will allow us to continue to satisfy our core customers with the most innovative and highest-performing PCs, and ultimately extend the reach and appeal of the Alienware brand."
It is true to say that the Alienware is a good fit for Dell – while the company dominates the regular PC and notebook market, and was making inroads to higher end products with its XPS range, it had not targetted the gaming sector in any meaningful way. This sector is of growing significance in the overall PC/notebook marketplace. Alienware, with its distinctive "alien head' logo, is probably the brand most readily associated with specialist computers for gamers.
While Alienware, like Dell, has always used a build-to-order strategy, it would not have anything like the same scale in terms of being able to dictate component prices. Alienware CEO Nelson Gonzales' comments focus on the potential to gain the benefits of Dell's supply chain efficiencies. However, there is a balancing act to be performed by Alienware, who will be trying to re-assure their current customers that the Alienware 'personality' will not be diluted under the new structure. He addressed some of these issues on the in a posting on the Alienware website:
"Wouldn't an acquisition by a larger, more established PC company like Dell violate the core brand tenets of Alienware, not to mention alienate (no pun intended) the core fanatical customer base we have built up such a huge following with?
The simple answer is no. We believe that this acquisition will offer our customers the best of both worlds — an Alienware that takes advantage of the world-class business practices and operational efficiencies that have made Dell one of the most respected companies in the world, while preserving the DNA of the Alienware brand and product strategy portfolio. The Alienware and Dell executive management teams have agreed that this acquisition could only succeed if Alienware is structured as a separate division which will continue to make its own product development, planning, marketing and customer support decisions. The ability to make standalone business decisions about the Alienware brand and product portfolio will be the key to our continued success and both the Alienware and Dell management teams recognize that the uniqueness of the Alienware culture and our special customer bonds are pivotal.
So perhaps the biggest surprise to most people will be that you're not going to see a lot of changes after this announcement. You're not going to see Alienware logos show up on Dell products and vice versa. Our website is not going to change and the majority of our business practices will stay the same. Both Alex and I remain in charge as we have before to manage Alienware."
He went on to speak about the efficencies to be gained by the deal: "The operational efficiencies that Alienware will derive from this acquisition, as well as our mutual passion with adopting best practices, will allow us to shorten product lead times, offer more flexible and affordable financing and ultimately allow Alienware to make deeper investments in technology innovations, bold and winning product designs, and unbeatable product support/service."