Global Wireless Entertainment Inc. (GWE), has acquired SkinIt Inc., which provides on-demand physical personalization of mobile electronic devices. SkinIt has merged with GWE's existing business, Cellfan.com.
Skinit says that it offers the most advanced and robust manufacturing capability and largest product line of skins to personalize consumer electronic devices. The range of devices catered for includes cell phones, iPods, laptops, gaming consoles, desktop computers and monitors, specialized electronic devices (such as the iRobot Roomba) and many others.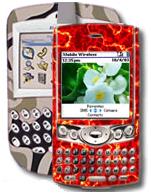 "We are very excited to announce the merger of SkinIt and Cellfan.com," said Paul Buss, GWE chief executive officer. "Combining these two powerhouses in the mobile media personalization space will make SkinIt.com the world-wide leader in vinyl skin personalization."
GWE specializes in long-term brand acquisition and representation. The current GWE brand portfolio includes Pele, Muhammad Ali, Wayne Gretzky, Mario Andretti, Warner Bros., DC Comics, Marvel, Ivan Ironman Stewart, Lucas Film, CLC, NHL, MLB, NBA, Wyland, Hana Deka and many others. GWE products include skins, information applications, wallpapers, ringtones as well as 2D and 3D games for mobile phones on the J2ME and BREW(R) platforms. The deal appears to be a good match between SkinIt's strength in user-supplied designs and GWE's licensed materials.
Launching at CTIA 2006, the new SkinIt.com offers the largest selection of vinyl skins to personalize more than 500 mobile devices, including cell phones, iPods, gaming consoles, laptops, desktop computers and monitors and other specialized electronic devices. For the first time, consumers can personalize their favorite electronic devices from the largest available collection of unique, licensed designs featuring sports teams (NBA, MLB, NHL, MLS), sports icons (Muhammad Ali, Pele, Wayne Gretzky), college logos, Greek logos, rock bands (Rolling Stones, Grateful Dead), and numerous television and film logos and images. Consumers can still upload their own personal photographs and images, or choose from thousands of stock designs from the SkinIt.com library.
SkinIt vinyl skins are offered by global retailers, OEMs and distributors and are purchased via Internet portals or on-line shopping sites, with PIN cards or live inventory. SkinIt customers include leading wireless carriers, computer manufacturers, wireless handset manufacturers, print publications, clothing manufacturers, phone accessory stores, college campus bookstores, electronic retailers and others.
SkinIt customers and partners include T-Mobile, Toshiba, Sports Illustrated, XM Radio, Telus, Fido Communications, Swisscom, Telecom New Zealand, TiVo, We Love Macs, CompUSA, Sanyo, Sirius, Samsung, THQ, IROBOT and many more pending for 2006.
"Teaming up with GWE means big things for the mobile media personalization industry," said Tom Stemple, SkinIt senior vice president of sales. "By combining our expertise in personalization technology, we will be able to demonstrate the most advanced and impressive manufacturing capabilities in the industry."