Finland-based DeskArtes recently released its 3Data Expert version 7.1. 3Data Expert software is especially designed for data transfer and repair for 3D Printing machines and simulation softwares. The main emphasis with the release 7.1 is the ease of use, robustness and direct links to 3D printing machines.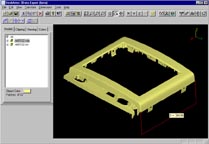 The user can recieve STL/VRML surface data from any source, such as Catia, ProE, 3D Studio Max, Alias etc., and convert it into correct STL data.
DeskArtes describe the main features of 3Data Expert release 7.1 as:
Ease of use – several improved functions for STL, VRML and ZPR file handling.
Direct STL links – transfer data directly to a 3D Printer software. Currently available links to Stratasys Insight/Catalyst and Objet Studio softwares.
Direct ZPR links – trasfer data directly to Color 3D Printer. Currently available the link to Z Corp ZPrint software.
Self study material – improved Online Help, new 3Data Expert Tutorial and new STL and VRML Repair Examples. DeskArtes suggests that these make expensive training courses obsolete.
Economical – basic triangle handling starting from EUR 1.200.
You can download the 3Data Expert 7.1 and other Expert Series 7.1 tools for 3D CAD design, manipulation and viewing from www.deskartes.com and ask for a 30-day evaluation.