The Make Magazine Blog recently carried a short post about a demo page depicting an 'online digital manufacturing' service on the site of 3D technology company Digital Reality. The copy on the page says that users can "create and sell custom toys, jewelry, motorcycle accessories, accurate fine scale modeling parts, promotional products, and millions of other unique products".

I enquired with Chris Norman, President and CEO of Digital Reality Corp. as to the status of this development. He informed me that the company is currently focused on patent prosecution globally, and that the online marketplace project is at a very early stage. The company has filed non-publication requests for their patent applications until such time as they are granted. The marketplace project is likely to be progressed further by the last quarter of 2007 or the first quarter of 2008.
It appears that Digital Reality intends to position itself as a technology provider for enterprises wishing to enter the digital manufacturing sector in the future. The demo page referred to above would be shown to potential clients to show what they could do with Digital Factory (TM), their core product currently under development. It is based on a patent pending process called Made-To-Order Rapid Manufacturing Enterprise. MTO-RME integrates web 2.0- based internet, CAD/CAM, Enterprise Resource Planning & Rapid Prototyping hardware to create an online design, sales and manufacturing system using Direct Digital Manufacturing.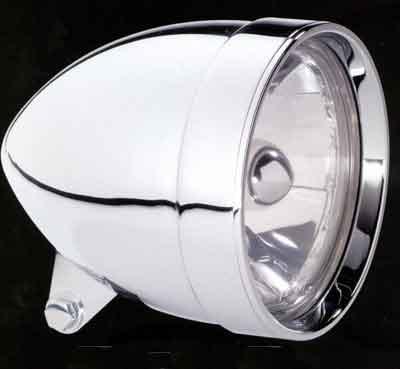 Edit 11/08/2007: These pictures show a motorcycle headlight and that has been "personalized" using what is commonly referred to as a 3D displacement map. If you look at the first picture, you will see that the headlight bowl is smooth. The second picture shows the headlight bowl embossed with 'flames'. Chris Norman explains: "Basically, it (the 3D displacement map) allows someone to use an image to create a terrain mesh which is effectively a 3D mesh on a surface. Using this technique, it is possible for the general public to do all sorts of things to objects without messing with the underlying design intent of the product. This is one powerful tool Digital Reality is developing and coupling with our WYSIWYG 3D-based product system we like to call Made-To-Order Digital Manufacturing Enterprise. We use 3D CAD files as the actual products and print them directly from the CAD files using 3D printing technology (commonly called Rapid Prototyping). What's special is that we are going to allow designers to publish designs in our system and allow consumers to "tweak them", letting them see in near real time the modifications and how they affect to the product in 3D. The 3D object that the customer sees is in effect the digital representation of their physical manifestation, a complicated way of saying that what they see is virtually what they get. In this case, a Cast Aluminum & polished motorcycle headlight."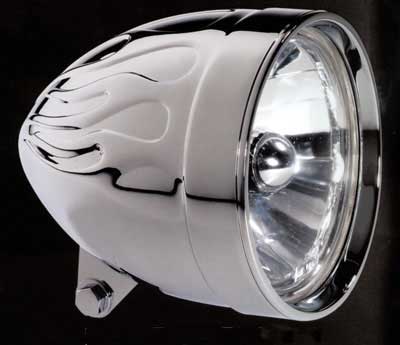 To create this representation, a mesh was wrapped on the surface through a tool that Digital Reality has developed. This tool will form part of the customer-facing functionality. When a customer uses it, they make their own product and it gets printed via 3D RP with the customer driving the sale and production.
According to Chris, one of the implications of this is that Digital Reality can establish connections with bureaus around the world and send the 3D files across borders without any of the costs associated with manufactured goods.