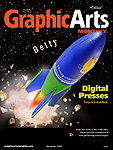 Xerox Corporation and its newly acquired subsidiary XMPie have teamed up with print industry trade publication Graphic Arts Monthly, to digitally produce customized colour covers for its December issue, currently on its way to more than 70,000 subscribers of the magazine.
The personalized cover features outer space-themed artwork with the subscriber's first name written in the stars and the subscriber's initials and company name embedded on a rocket blasting through the middle of the cover. It was developed using XMPie uImage and PersonalEffect software and printed on the Xerox iGen3 110 Digital Production Press. The project marks the first time GAM has included this level of personalization on its magazine cover.
"Our subscriber base exceeds 70,000 so our covers are typically printed on offset technology, but I was amazed to see what digital printing and the iGen3 press could do for this project," said Bill Esler, editor in chief of Graphic Arts Monthly. "We expect the XMPie personalization to boost our renewal rate. Our creative department is now looking at ways we can put digital technology to use for regional mailings or cross-media marketing campaigns as well."
The December issue is particularly important for GAM, as it prompts readers to renew their subscriptions, a critical need for publications that rely on circulation numbers to drive advertising dollars. By personalizing the renewal information with the subscriber's account number on the cover and directing them to a customized Web site, GAM has made it easier for readers to renew their magazine subscription.
"A project like this puts the power of personalized digital printing on full display for the graphic communications community," said Quincy Allen, president, Xerox Production Systems Group. "Demonstrating that digital printing and personalized content are viable options for a high-volume print job like this will open doors for print providers – they're able to show digital is the answer for more than just short runs."
uImage from XMPie produces and integrates image personalization effects with Variable Data Publishing (VDP). Adobe Photoshop CS2 and Adobe Illustrator CS2 users can produce personalized images and graphics, and merge them into XMPie variable publishing, in print and online. uImage enables a user to leverage the Smart Object feature of Photoshop CS2 in creating personalized images, while maintaining all the effects that can be applied to non-rasterized Smart Object layers. An example of this is transformations and clipping masks, including Photoshop CS2's new Image Warping capabilities, which enable the user to wrap images around 3D surfaces leading to realistic results.
The use of variable data printing for the personalization of printed publications has been very limited to date. The use of VDP has almost always been confined to direct marketing and customer statements. It is likely that examples such as the December cover of Graphic Arts Monthly will encourage other examples where actual publications are personalized for their individual readers. The main restriction, of course, is that the potential for personalization is limited to the subscriber base of a publication. It is not possible to personalize those copies of a magazine that are sold on the news-stand. Where subscriptions form a limited percentage of overall sales, it may be difficult to justify the additional effort required to print a standard copy for news stands, and a personalized version for the subscriber base.