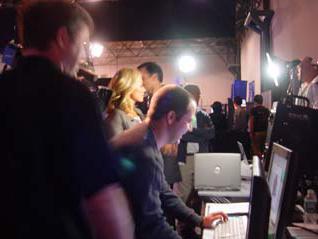 Three-dimensional imaging company Direct Dimensions was provided with an interesting opportunity to demonstrate their technology recently. While attending NextFest 2006 in New York City, talk show host Kelly Ripa stopped by to visit the Direct Dimensions booth and participated in the 3D face scanning process being offered as a demonstration of new technology.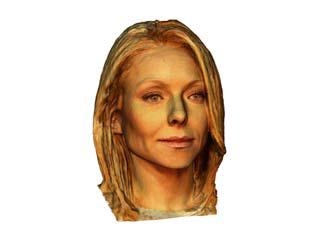 The data was processed and turned into a small 3D likeness of her face. Pleased with the results, she subsequently allowed Direct Dimensions to come to her New York studio and rescan her for a 360 degree picture of her entire head. The scanning process took about a total of five minutes. The data was processed and a full size replica was presented on air on the Live with Regis and Kelly TV show.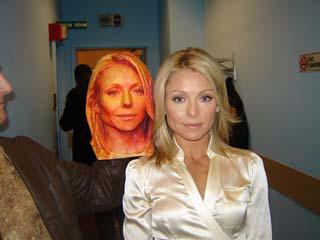 3D face scanning involves using a 3D camera to take a series of rapid laser images. The subject is seated in a chair and asked to remain still while a camera takes rapid images. The chair is rotated slightly for a 360-degree picture. The data is
then collected and "sewn" together in a computer and a file is created to form the image in the desired size and format.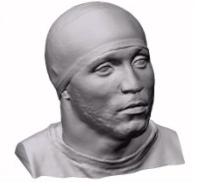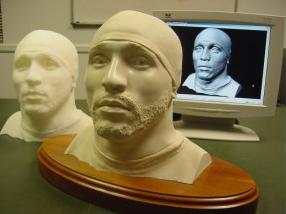 Other celebrities having this process done include Ray Lewis, linebacker with the Baltimore Ravens American football team. Mr. Lewis was scanned in his home and a marble bust was created and auctioned off for his charity. Also participating in a scan for charity was local radio disk jockey Amelia Ryerse. Amelia, half of the morning-drive time show The Mickey and Amelia Show on Baltimore's 98 ROCK, had a bust of her, erm, bust created (photograph not available!). This was auctioned on e-Bay
and proceeds were donated to the Baltimore Zoo.
Direct Dimensions technology is generally used in the areas of design, engineering, and manufacturing; as well as art, sculpture, and architecture. The company is currently working on other applications based on 3D scanning to make mass customized medical components such as prosthetics, splints, orthotics, and others. Most of the work is industrially-focused such as for reverse engineering parts of aircraft, cars, machines, and so on to create digital models for
manufacturing. In more recent years the compnay has extended its reach into art, sculpture, historic preservation, medical applications and the type of human scanning described above.
Looking at the pictures, you would imagine that the Kelly Ripa model was produced as a colourless plastic moulding and then painted by hand. Not so – Direct Dimensions scanning process captures colour during the scanning and maintains this through the post-processing operations to create fully colored digital model. This file is then passed over to a COTS rapid prototyping machine that can output in full colour.
Direct Dimensions are currently collaborating with several video game manufacturers including Atari. According to Michael Raphael, President and Chief Engineer of Direct Dimensions, "Our face scanning is performed using some fo the same scanners used for industrial purposes. Using a fast, accurate eye-safe scanner, we can capture a persons face in seconds and create a highly accurate 3D digital model directly from this data in minutes. And this is in full color, which
is very interesting to many people and for many applications including avatars, video games, virtual environments such as Second Life, medical applications, and many others."
The oportunity to create 3D images of celebrities and use that data to create life-size busts is a useful marketing tool for Direct Dimensions, which they can use to draw attention to the more usual (and more important) applications of their technology in reverse engineering and medical devices and prosthetics. However, with the increasing popularity and complexity of gaming and online worlds, there may yet be a lucrative consumer market for 3D face scans that can be incorporated into a person's online alter ego, or avatar as they are commonly known.