The ranks of online marketplaces for user-designed apparel has been swelled by the arrival of Yerzies. This new company allows anyone to create, purchase or sell their own customized tee shirts, hoodies and other apparel items. In addition to the ability to upload images for printing on a t-shirt or other item of clothing, Yerzies product configurator also allows users to access an array of creative options. Users can purchase as little as one piece or sell their creations to the Yerzies community and keep the profits.
Yerzies has been founded by Scott Killian and Tim Brule. The press release announcing the launch of Yerzies refers to the founders also having "helped pioneer online apparel mass customization with FanBuzz in 1996″.
Beyond printed tee shirts, Yerzies enables the creation of stitched sweatshirts and mixed-media designs that include metallic foils, glitters and other processes to create apparel which more closely resembles the design trends seen at retail. This includes printing on dark garments, metallic foils, flocks, glitters, glow-in-the-dark materials and stitched processes.
When they're finished, users can purchase a single piece or set-up shop at Yerzies and sell their creations to other users. Where Yerzies, to my knowledge, has gone one step beyond the other players in this marketplace, is through a feature called "Make it Yerz", that allows users to mix and match product options and in some cases, even make modifications to the content created by other users. This is very much a reflection of the 'remix' culture that has been present for some years in the area of user-generated content in areas such as music and film. It is probably a natural progression for this culture to migrate to the apparel sector, which is already characterised by a high level of creativity.
A quick road test of the Yerzies website shows that they even refer to designs which can be modified as a "Mashable design", meaning that the original designer has decided to allow other users to modify their original design to create something entirely new.  However, mashed up designs cannot be re-sold by the person who uses this facility.
The configurator uses the concept of 'layers', which will be familiar to anyone that has worked with photo editing software. Users can upload their own images to a new layer, or use layers to add extra features from Yerzies range of options. Each design element can be saved as a separate layer within the Yerzies configurator and modified independently of the others. Therefore, if the user wants to go back and modify some part of a design, they can select the layer in question and work on it without disturbing the other aspects of the overall design. It's a very clever adaptation of the layers concept,
While users can re-size or re-position the original design, and add additional elements to it in new layers, it appears however that there is not the option to actually change the 'core' of the original design. For example, I experimented with one design called 'Rock God', and found that it was not possible to change the colouring of the text or vary the text itself.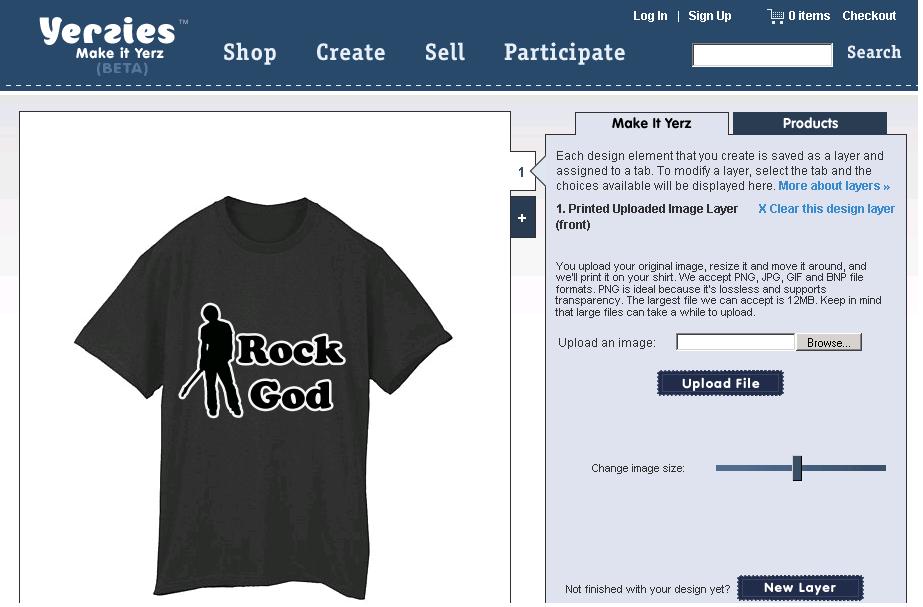 Yerzies says that it is also rolling out a series of robust tools for users to share and market the content they create including widgets that can be placed on their website, blog or favorite social networking site without any programming expertise. In the press release, Scott Killian is quoted as saying: "We allow anybody to create and sell their own designs. Each user decides how much they want to mark them up and they keep the profits."
In addition to providing a platform for user-generated content, Yerzies has also licensed content from third-parties including typefaces from designers such as Ray Larabie which users can incorporate into their designs. "Helvetica and Times Roman might work nicely for writing a novel" said Killian, "but they don't necessarily look great on a hooded sweatshirt. We've licensed trend-right typefaces that will actually look cool on a tee shirt or hoodie."
Last year, Yerzies also engaged The Wildlfower Group, a New York-based licensing agency to assist the company with securing licenses with various entertainment and lifestyle properties. In addition to creating their own apparel, users will also have the option to purchase licensed apparel bearing the trademarks of various brands. "Over 20 properties have granted licenses to Yerzies including lifestyle brands David & Goliath, Ripple Junction, ODM and Changes, entertainment and media brands Pink Panther, Planet Earth and Speed Racer and consumer products brands such as Dubble Bubble and Jolt Cola.
The facility to re-use and modify existing designs certainly gives Yerzies an unique selling point compared with other online marketplaces for custom clothing.  Although very new, the website seems to have no difficulty in attracting members.  One to watch.