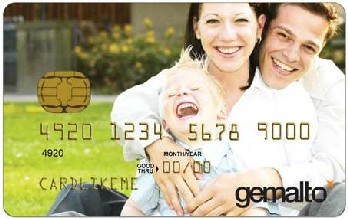 Digital security systems provider Gemalto recently introduced an end-to-end solution for secure Internet design of personalized EMV payment cards. Gemalto's CardLikeMe provides users with an intuitive interface to upload a picture of their choice on the bank website to create a unique personal card.
Gemalto (NASDAQ: GEMP) has operations in 120 countries and 11,000 employees including 1,500 R&D engineers. The company creates and deploys secure platforms, portable and secure forms of software in highly personal objects like smart cards, SIMs, e-passports, readers and tokens. More than a billion people worldwide use the company's products and services for telecommunications, banking, e-government, identity management, multimedia content, digital rights management, IT security and other applications.
As part of the offering, Gemalto provides banks with the software solution required for processing the photograph on their website and ensures complete card personalization and fulfillment. CardLikeMe has already gone live with several European financial institutions.
Once the picture is loaded on the bank website, users can visualize the card appearance in real time and adjust the photograph as they wish. The image is approved by the bank before the order is placed. Users may also choose a picture from a wide range of attractive background visuals offered on the bank's online gallery.
Gemalto describes CardLikeMe as a comprehensive turnkey solution that includes web, printing and personalization services. The offering encompasses management of the entire solution, from software integration into the bank website through to card delivery to the end-user.
"Simplicity and convenience for users, as well as easy integration for banks, were key drivers behind the development of CardLikeMe," commented Philippe Cambriel, president banking and security at Gemalto. "With CardLikeMe, Gemalto supports banks in their quest to offer highly personalized services to their clients and give end-users a taste of uniqueness."