A number of interesting announcements have been made in recent weeks in the area of personalized television services and technologies.
First off, MatrixStream Technologies, Inc., have announced the world's first H.264 AVC (advance video
codec) Video on Demand and IPTV Set Top Box (STB) and PC Player capable of 1080 vertical pixels by 1920 horizontal pixels high-definition
(HD) signal formats. MatrixStream say that their 1020HD STB will match and even exceed broadcast and satellite quality video over any
broadband network the same way that Voice over Internet Protocol (VoIP) can be used over any broadband connection.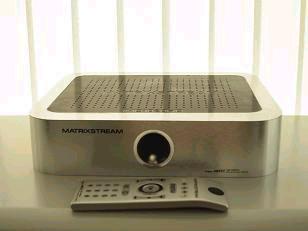 MatrixStream technology uses a proprietary H.264 end-to-end solution, allowing viewers to watch videos in DVD or HD over any best effort broadband; capable of instant VOD, streaming DVD-quality video in real time. The company says that this system is superior to most IPTV and Video on Demand (VOD) solutions on the market today, which are bogged down by broadband bandwidth congestion and integration issues.
The 1020HD STB is operated by simply plugging one end of the device into a TV set and the other into any broadband connection, and the user can then watch
Video on Demand and IP broadcast TV in DVD or HD quality. End users will be able to access an ever-increasing range of content and channels from around the world. Features to be included are friendly interactive menus, and e-commerce capabilities tied to MatrixStream's
dynamic advertising management (DAM) technology, which targets advertising based on individual user's
preferences and interests.
MatrixStream also produces a turnkey plug-n-play backend solution, that is fully integrated with IP STB and PC viewing clients which enable IPTV operators to deploy an IPTV service complete with billing management, subscriber management, channel management and digital rights management.
Another recent development in this sector concerns ChoiceStream, Inc., (not connected to MatrixStream) which has agreed a deal with Movielink and Akimbo, who have licensed ChoiceStream's personalization technology to power entertainment recommendations.
Movielink is a broadband movie download service, offering a large selection of new and classic hit movies, foreign films and hard-to-find, indie titles. Using ChoiceStream's personalization, Movielink will enable its customers to discover new movies and find familiar titles. Beginning on the home page, Movielink will offer 'Recommendations for You,' a personalized set of movie titles that are based on the customer's own preferences. This feature will ensure that no matter how frequently a customer visits the Movielink home page, he/she will always have a selection of 'new and interesting titles to watch next'.
This service is actually quite similar in concept to the personalized book recommendations used by Amazon.com. The important characteristic of the service is that control remains with the customer – they can watch or not watch the recommended movies.
In addition, Movielink will offer its customers two popular ChoiceStream features: 'Sort by Relevance' on the movie genre pages – instead of scrolling a long, alphabetical list of 'Action' titles, customers will be presented with a list of action movies suited to their particular tastes; and 'More Like This' Titles – as a customer browses and selects movies, similar movie titles will appear so that the customer always has relevant choices at his/her fingertips.
"To help our customers sort through our vast inventory of new releases and classics, we're working closely with ChoiceStream to offer best of breed personalization," said Jim Ramo, CEO of Movielink. "As a pay-per-view service, it's important that we build trust with our consumer that they'll always find movies and videos they'll want to watch at Movielink." The service is owned and operated by Movielink, LLC, a joint venture of Metro-Goldwyn-Mayer Studios, Paramount Pictures, Sony Pictures Entertainment, Universal Studios and Warner Bros.
Akimbo Systems, established with the vision of using the Internet to directly connect video content providers to consumers' television sets, selected ChoiceStream to connect its consumers to the most relevant video based on their interests. Akimbo was named "Best of What's New" by Popular Science and accepted 2005 Digital World Innovations and CES Best of Innovations 2005 awards.
ChoiceStream will power the recommendations presented on the front page and genre pages of Akimbo.com, and also extend to The Akimbo Guide on the TV set. In the world of IPTV, where all content is available all the time, personalized recommendations and tools that allow consumers to 'sort by relevance' are particularly useful to the consumer who is trying to find the right movie from the thousands of titles available.
"ChoiceStream's personalization solution will add another dimension to the search techniques, RSS feeds and other advanced technology that we've built into the Akimbo Guide, helping our subscribers discover new programming based on their own preferences," said Josh Goldman, CEO of Akimbo Systems.
"ChoiceStream is very excited to be working with Movielink and Akimbo, two great brands on the cutting edge of how consumers download and view video content. Today, consumers are faced with an unprecedented amount of information. The explosion of content made available online and on TV each day can be overwhelming," said Steve Johnson, CEO of ChoiceStream. "ChoiceStream personalization provides powerful ways of connecting consumers with the video, movies and music that they'll most enjoy. So that, no matter how many choices consumers have, more will always be better and finding the right content will always be a click away."
In a separate development, communications technology company Motorola recently unveiled converged technology solutions that are able to seamlessly deliver data rich services, such as high-definition video, on-demand services, and unified cellular-landline voice communications. The new technology set includes Gigabit Passive Optical Network (GPON) and IP video over Wireless Broadband, increasing Motorola's ability to deliver ultra-broadband capacity to more people in more places.
Motorola say that these developments are evidence of their commitment to aggressively pursue the multi-billion dollar IP solutions market with a full range of ultra-broadband next-generation technologies designed to empower an ever-eager consumer population with bandwidth intensive, peer-to-peer, broadcast, and everything-on-demand entertainment services.
"The IP video market will yield explosive growth as consumers move digital content not only in the home but to multiple devices," said Matt Davis, director, consumer multiplay services, IDC. "Ultra broadband (UBB) solutions can provide the answer in helping providers go beyond the 20 megabits of broadband capacity that is being allocated today for most homes to supplying the 50+ megabit capacity necessary for emerging lifestyle innovations."
Motorola is helping wireline service providers cost-effectively close the gap on the bandwidth requirements they need today and into the future with a portfolio of end-to-end broadband and ultra-broadband (UBB) solutions.
For those who wish to take their entertainment a step further and develop their own content, the forthcoming release of software by iBloks will be of interest. iBloks is a maker of 'self-expression software' aimed at addressing consumers' growing need to personalize their digital media and entertainment experiences. The company was chosen by Microsoft Corp., to participate at MIX06, a recent conference for Web developers, designers and business leaders in Las Vegas.
The company was founded by entertainment and software industry veterans from Apple, Microsoft, Xbox Live, and MongoMusic, and is funded by entertainment industry executives from Warner Music, DreamWorks, Maverick Records, and GUESS?.
"iBloks has capitalized on the need to enhance the consumer experience with fun and powerful software to create and converge personalized digital media and entertainment," said Tim O'Brien, group manager of the Platform Strategy Group at Microsoft Corp. "We are pleased to be part of this innovation and provide iBloks the support it needs with Microsoft Windows Presentation Foundation."
iBloks is one of a select group of companies chosen by Microsoft to preview its product, which is based on Microsoft Windows Presentation Foundation, the new presentation technology in Windows Vista. iBloks say that their service is the only way for people to create personalized, multimedia entertainment experiences using all major digital media formats including photos, videos, games, music and sounds. Consumers can use their own content or connect to the iBloks shop from the application to purchase licensed digital content from top media companies. Users can mix media together, save personalized iBloks and then share their creations via email, IM, Web pages or blogs. iBloks will release its consumer software later this summer.