Scion's BYS vehicle configurator, has been awarded a Webby People's Voice Award in the Automotive category. Established in 1996, the Webby Awards are presented by the International Academy of Digital Arts and Sciences, a 500-member body of leading web experts, business figures, luminaries, visionaries and creative celebrities. The awards honour excellence in web design, creativity, usability and functionality.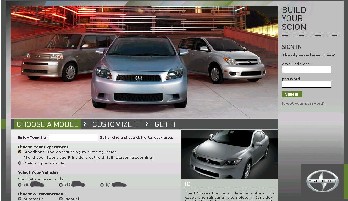 "The Build Your Own Scion configurator is the most popular feature on our web site, said Adrian Si, Interactive Marketing Manager at Scion. "50% of Scion website visitors interact with the configurator. We do frequent user testing on our website features, and our customers report that they love the application. It's a personalization tool that lets customers see exactly what their car is going to look like before they go to a dealership to buy it. Furthermore, it has become a sales tool at our Scion dealerships, helping on-site clients customize the car that's just right for them. This is truly a multi-channel marketing tool that empowers customers and drives brand engagement."
The Webby award was given to DHAP Digital, who constructed the Build Your Scion (BYS) website using 3D visualization technology supplied by Viewpoint.
Viewpoint initially worked with Scion to develop the BYS when Scion was first launched into the marketplace. Featuring Viewpoint's 3D visualization technology, the configurator allows Scion customers to interact with and personalize vehicles online. After fully configuring a car exactly to their liking, site visitors can create a personalized e-brochure which can be printed or sent directly to a local Scion dealer.
"Configurators are not just for the PC market anymore," said Patrick Vogt, Viewpoint's CEO. "Innovative marketers like Scion can see the inherent value of providing a lively, interactive way for customers to engage with their brand. Product personalization is driving great interest in interactive configurators across many industries, including jewelry, handbags, clothing and gifts. Luxury goods marketers in particular embrace the idea of showcasing their products with engraving, embroidering and other forms of personalization on the web. With the great upsell opportunities for add-on products, this is a web technology that enables companies to easily create additional value for the customer, ultimately resulting in enhanced profitability."