3D CAD Software supplier Solidworks recently highlighted its work with Moobella, a Taunton, MA, USA-based company that has developed a vending system that allows customers to choose fresh, hard-packed ice cream flavors like cake batter and accompanying mix-ins like chocolate chips, and have a scoop of ice cream in their chosen mix within 45 seconds.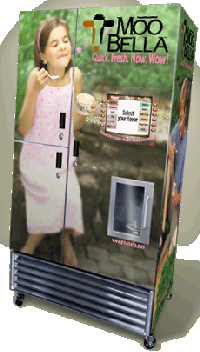 MooBella LLC has been in operation since 2000, although founder, Paul Kateman, has been working on the vision of freshly made ice cream in a vending-style machine since the early 1990s. Currently, the MooBella Ice Cream System, which offers 96 varieties of delicious ice cream made fresh to order, can be found in select cafeterias in hospitals and universities in and around Boston, Mass.
MooBella matches its patented technology with one of the world's favorite treats to deliver custom-made ice cream from a vending-style machine. Hungry customers will select from 12 different flavors in either premium or low-fat varieties, and three different mix-ins to create fresh ice cream made to order. MooBella designed the first-of-its-kind machine in SolidWorks to improve design communication with suppliers, and perfect the process of automatically mixing fresh ingredients in the right proportions within the machine.
"One of the many challenges we face in delivering fresh ice cream is ensuring food safety with no product degradation," said MooBella Vice President of Engineering Jim Baxter. "SolidWorks' close-fit tolerance capabilities are allowing us to make Founder Paul Kateman's innovation a reality. In SolidWorks, we can see detailed interaction between the components that mix the cream, sugar, and other ingredients to ensure consistent product quality every time."
SolidWorks is also simplifying injection molding design to help MooBella with its first manufacturing run in 2007. Many of MooBella's suppliers, molders, and machine shops also use SolidWorks, enhancing communication and reducing errors. SolidWorks' eDrawings software allows Baxter and his team to share 3D models or 2D drawings with suppliers and potential customers. "With a project like this, collaboration is crucial. SolidWorks and eDrawings allow us to work with contractors as if they were in the same room," said Baxter.
SolidWorks Vice President of Worldwide Marketing Rainer Gawlick commended the MooBella team and its creative design. "Ice cream's appeal is pretty universal, and making it conveniently accessible and delicious is a coup," he said. "MooBella is the latest example of a company founded on a great idea and using SolidWorks to make that idea a reality."