In July, 2001 Gale International negotiated a joint venture agreement with POSCO E&C (Korea's largest engineering and construction company) and the City of Incheon, South Korea, for the planned development of a completely new city, called Songdo City. Located at the site of General MacArthur's 1950 landing, Songdo will be the first "new" city in the world designed and planned as an international business district.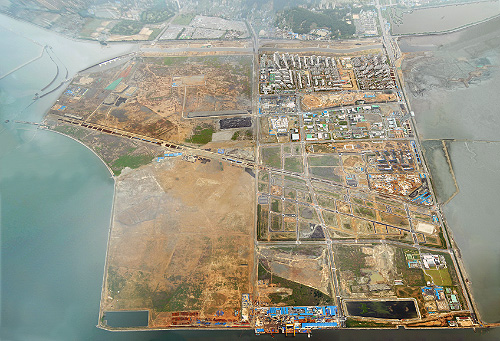 The entire Songdo development area. The portion being developed by Gale International is on the left. The area on the right is being developed by the city of Incheon. (Gale International, June 2006)
According to an article by Victor Rozek in ITJungle.com, Songdo will be
A place where everything is tracked, every action recorded, every service personalized, and every transaction automated.
The developers of Songdo are investing $25 billion to raise the city, which will become a testing ground for new technologies. According to Victor Rozek:
"Songdo is projected to be an international commercial center and the first true U-city ("U" being the shorthand for ubiquitous computing). It will allow all IT systems, whether belonging to government agencies, corporations, healthcare providers, or private citizens, to share data. Every street, every house, every office will be wired (or rather wireless). It will, its developers hope, become a ubiquitous-computing paradise that demonstrates the benefits of living a digital lifestyle. An array of new RFID-based services will be introduced, tested, and refined before being unleashed on the rest of the world."
Songdo is built on 1,500 Acres of reclaimed land and will soon to be connected to Incheon International Airport via a new bridge. Currently under construction, the city will include a 100-acre Central Park, International School, International Hospital, Ecotarium, and Museum amongst its many amenities.
The city's plan includes fifty million square feet of office space – including a landmark 65-story Tower and Convention Center, thirty million square feet of residential space, ten million square feet of retail, five million square feet of hotel space, and ten million square feet of green space. The developers hope that Songdo will become the business hub for multinational companies in Northeast Asia, due to its central location within the Yellow Sea Economic Basin – which comprises an economically active population of more than 200 million with a GDP of USD 1.3 trillion.
Perhaps it is not surprising that Songdo has been compared to Brasilia by some commentators. Brasilia was constructed from scratch in Brazil during the 1960′s. Website The Next American City notes that planned city developments, such as Brasilia, are not usually successful. Personally speaking, I would keep an open mind on the prospects for Songdo. One difference between Songdo and previous 'planned' cities is that Songdo is very much focused around business and technology, rather than social planning. However, this does not guarantee success.
The new city is of interest to this website because it appears to be designed with the intention of personalizing every aspect of life around the needs of the individual. This could be called 'ubiquitous customization' – using ubiquitous computing to tailor every aspect of everyday life to individual needs. Examples given by Victor Rozek include:
"…intelligent recycling bins that use RFID technology to credit recyclers when they drop in a bottle or a can; to the inspired, like smart-card house keys that can also be used for a wide range of services. A house key will allow residents to borrow a city-owned bicycle, access the subway, use the library, plug the parking meter, and who knows what else, maybe even order a pizza. Videoconferencing, whether between business enterprises or neighbors, will be available, as will video on demand."
Some possible services take the ubiquitous customization a step further, to the point where the physical environment can change in real time to fit the needs of the individual at a particular moment. Rozek provides the example of "pressure sensitive floors for the elderly that can detect a fall and summon help".
There are many reasons why Songdo might succeed, and many why it might not. These are examined in detail in both the IT Jungle and New American City articles. The principal concerns relate to the ability of Songdo to persuade residents to stay long term, and the issue of how to accomodate the many people who will be needed to fill lower-income jobs in the new city.
Ubiquitous customization, and real time ubiquitous customization, are a natural extension of ubiquitous computing. While the initial wave of services that are based on UC will be those that are purely digital, it is only a matter of time before UC is combined with intelligent materials to create a world where physical objects can change their characteristics in real time to fit the users needs, not just when they buy something, but each time they use it.