Ultimate Ears make ordinary earphones obsolete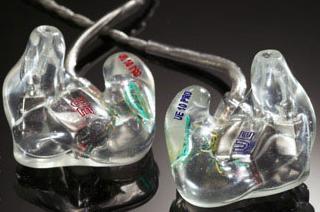 The UE-10 Pro from Ultimate Ears
2004-06-02: Tired of spending hours downloading the latest Aerosmith, Norah Jones or OutKast tunes to your iPod and then getting a sound as thin as your neighborhood garage band? Treat yourself to a pair of Ultimate Ears --- deluxe earphones created as stage monitors for the likes of Van Halen and Linkin Park and now available to ordinary audiophiles who simply want to hear their music the way the sound engineers intended.

Ultimate Ears earphones are custom-molded to conform to the exact shape of the wearer's inner ears for maximum comfort, and the consumer versions utilize the same technology as the company's professional models but are specially tuned to optimize the sound of mastered music. They can be used with MP3 players, DVD players, notebook computers, home audio systems, and any other device that accepts an 1/8-inch mini jack.

The story of how Ultimate Ears came into existence is an unusual one. Jerry Harvey was traveling as a sound engineer with multi-platinum rock band Van Halen in 1995, when drummer Alex Van Halen complained that the earpiece he was using to hear himself and his bandmates on stage wasn't worth the price of one of his drumsticks. Several months later, Harvey and his then-wife Mindy went into business under the name "Ultimate Ears" with a deluxe in-ear monitor featuring special two-driver engineering for better sound reproduction plus custom fabrication from silicone impressions of the wearer's ears, to ensure a precise fit.

At the time, in-ear monitors had begun to replace or complement floor-based wedge monitors to help band members remain in sync during a performance. Earpieces enabled artists to move more freely as well as hear the sound mix without having their personal wedge speaker blaring in their direction at potentially dangerous volumes, but the early in-ear products had poor sound quality and a poor fit that exacerbated the audio problem.

"I wanted the best custom ear molds available to provide comfort as well as a tight fit to block out extraneous noise and thereby preserve the artist's hearing by allowing volumes to stay relatively low," recalls Jerry Harvey, now 43. "I also wanted to deliver better audio quality than existing products, so I incorporated two speakers in each ear with a crossover mechanism to ensure that both low and high frequencies would be heard. No one had done that before."

Initially he gave his new earpieces away to the artists he was working with, but Mindy Harvey knew a business opportunity when she saw one. She convinced her husband to turn his invention into a commercial venture, quit her job selling Canon copiers, and became his administrative, sales and marketing department rolled into one. Although the couple divorced within months after launching Ultimate Ears, they remain a business team, with Mindy serving as president and Jerry concentrating on product development.

In early 2004, the company branched out to the consumer market with new earphones specifically designed to be used with iPods and other MP3 players as well as DVD players, notebook computers and home audio systems. "The explosion in digital music has opened up a whole new sales channel for us among audiophiles, but we didn't realize it until someone handed Jerry an iPod", says Mindy Harvey.

The "someone" was a production assistant with rap-metal sensation Linkin Park. Jerry had never seen an iPod before and didn't know what it was. As soon as the assistant showed him how Apple's digital music player worked, he plugged in his own earpieces and immediately heard a new market singing in his ears. "A guy from Linkin Park's sound crew introduced me to people in Apple's professional audio division, and I flew out to Cupertino to fit 30 Apple executives and employees with one of our professional earpiece models," he says. "They were blown away, and that's when I knew my instincts were right. I went to work designing a special earpiece tailored to the needs of mastered music instead of live performance."

That model, the Ultimate Ears UE-5c, became available for sale in January 2004 alongside the company's existing products for professional performers. The Ultimate Ear UE-5c is a US$550 model with one low-frequency and one high-frequency speaker in each ear. Ultimate Ears say that they provide detail and clarity that make prior listening experiences seem anemic by comparison.

The top-of-the-line $950 Ultimate Ear UE-10 Pro - the same model that Stevie Wonder wears in the recording studio - incorporates three speakers in each ear for studio-quality fidelity. The UE-10 Pro also features a special "full-soft" material with pliable characteristics for extra wearability. Any part of the earpiece that is touching the ear is made of this softer material. This "full-soft" material is very suitable for extended wear such as listening to music or movies.

So, given that everyone's ears are different, how do Ultimate Ears know what shape your monitors should be?

You first visit a professional audiologist or hearing center, and get impressions of your ears. This will take about 10 minutes, and involves filling the ears with silicone. It is important that good quality full ear impressions are produced. Full ear impression means that it should be taken to the second bend of the ear canal. In audiological terms, this includes the crus of helix, tragus and antitragus. Strange as it may seem to those unfamiliar with audiology, but one of the most important factors in getting correct ear impressions is that the person must keep their mouth open while the silicone is being inserted, and also for the 10 minutes or so while it is setting. Ultimate Ears recommend using a 'bite block' to ensure there is no jaw movement while the impressions material is curing.

You then send away to Ultimate Ears your completed ear impressions along with your order. The earphones are available in any color, and ship in roughly seven business days.

The custom fit prevents the falling-out problem that is common with other earphones. A sealed custom earpiece also means the low frequencies can resonate in the ear offering optimum bass response naturally, not accomplished by volume. Another benefit is that it minimizes external noise from sources like jet engines, delivering -26db of isolation, that is roughly equivalent to putting your fingers in your ears. In addition, all models can withstand the sweatiest workout, designed as they are for the rigors of live performance.

In addition to the unique shape of each monitor, the customer can further personalise their UE-10 Pro with a chosen colour or a two-colour swirl design, alternatively they can choose clear or skin tone colour options. The cables are available in clear, beige, brown & black.

Ultimate Ears have such confidence in the performance of the UE-10 Pro that they have published a 'frequency chart' which a customer can use to compare the UE-10 Pro against any competitor. Provided, of course, that the competitor is willing to show their own frequency chart.

Ultimate Ears, based in Las Vegas, USA, has an impressive 70% market share for personal monitors. A number of other models are available, each for its own specialist purpose. For example, the UE5 Ambient offers the ability to hear external stage sounds while also incorporating a mix directly into the ear.

For the ordinary audiophile, the prices of these monitors may seem high compared with regular headphones, but it is fair to say that these are not headphones at all. In the case of headphones, the human ear has to adjust both physically and aurally to the characteristics of the product. Ultimate Ears have, in effect, reversed this idea and have placed the customer (and their ears), in the centre, and have designed their personal monitors to fit inside the customer's own unique features.