You Really Are What You Wear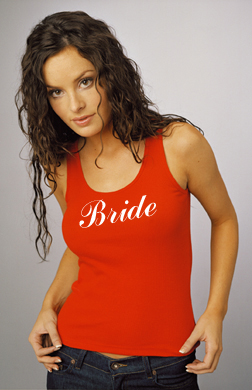 2004-07-02: A company based in Columbus, Ohio aims to provide the ultimate choice to followers of fashion - the freedom to design their own clothes. The CustomizedGirl label was set up by Joe Thibault, Andy Hagans and Taj Schaffnit, who saw the potential in developing a fashion line which would fill the still largely untapped area of personalised clothing. While there are a number of companies in existence that allow various levels of customisation to their clothing selections, it is fair to say that there is as yet no brand that is universally associated with custom designed fashions. It is possible that CustomizedGirl will be the first to make this breakthrough.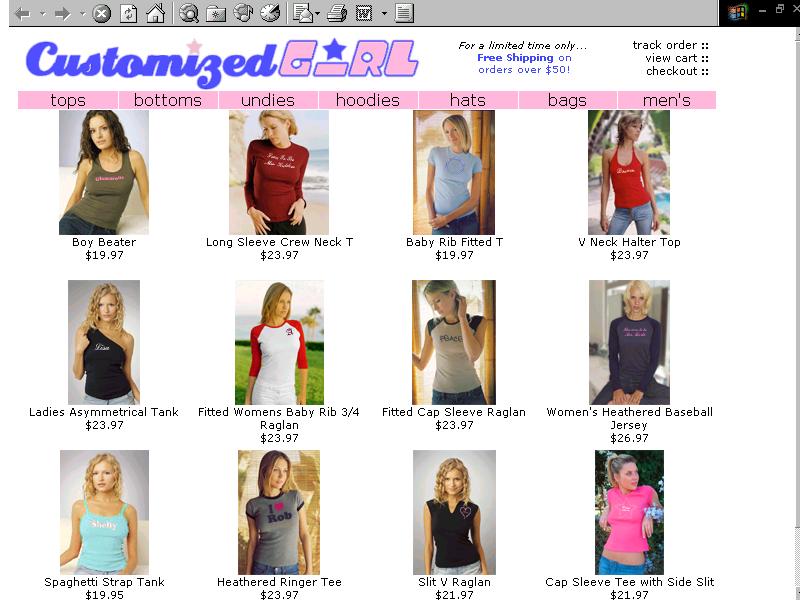 A page from the CustomizedGirl website
The company founders, led by owner Jay Thibault, had previously run a company and Web site called Greek House (www.greek-house.com) that sold customised clothing for fraternies and sororities. While that was profitable, they wanted to expand - so they set up the new company because they saw an opportunity to serve what they viewed as a virtually untapped market. It was head of marketing and design Andy Hagans that came up with the company name, and he also designed the Customized Girl logo and website (www.CustomizedGirl.com). Thibault and Hagans continue to work on new design templates that can be used by customers to personalise their purchases. The third member of the founding group is production manager Taj Schaffnit, whose role is to ensure that all orders are shipped correctly and on time, and making sure all items exceed customer expectations in terms of quality. While these three were the originators, they are quick to pay tribute to the valuable contributions made many other employees who are part of the team.

The Customized Girl website utilizes a simple step-by-step process for individuals who want to customize apparel. First, the user selects an article of clothing from the CustomizedGirl Collection. Next, he or she selects a design style and places it on the garment. In many cases, the chosen design can be placed in a number of locations on the garment. Finally, the user creates a personalized logo or message with the desired font and text colour.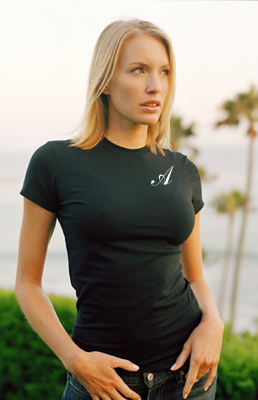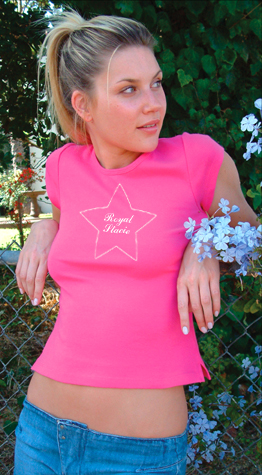 Some of the CustomizedGirl tops (above) and sweatshirts (below)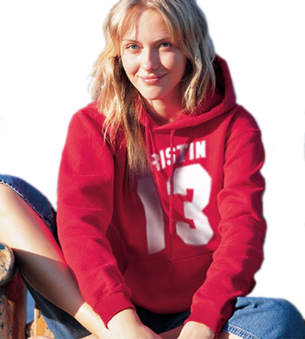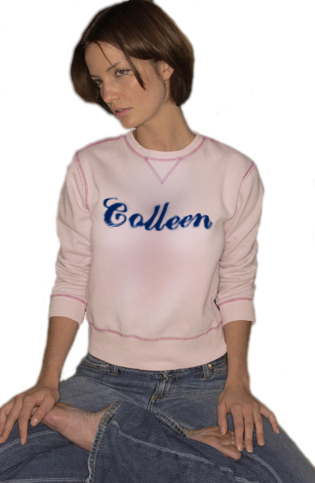 The range of fashions available from CustomizedGirl currently includes outerwear and underwear for women, a range of t-shirts and sweatshirts for men, as well as hats and various bag designs. The fashions for women currently include twelve different tops, shorts, eight types of sweatshirt/fleece, and six items of underwear. It is a little ironic that the single smallest item produced by CustomizedGirl, the $8.97 thong, is their biggest seller!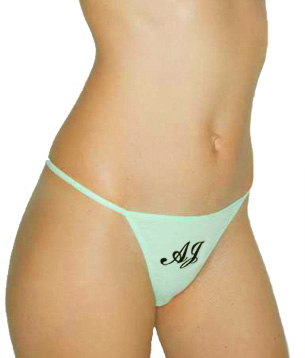 The CustomizedGirl thong, yours for $8.97!
The menswear range includes a heavyweight hooded sweatshirt, 3/4 baseball shirt, longsleeve and sleeveless t-shirts, golf shirt, shorts and fleece.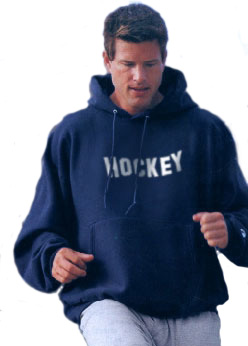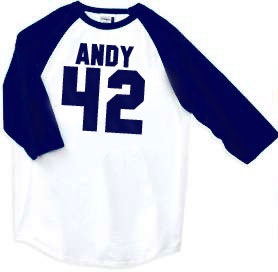 The heavyweight hooded sweatshirt and 3/4 baseball shirt from the men's range.
There are two types of knitted hat available, a low-profile cap and a trucker-style mesh hat. The bag range consists of express tote, mini retro and messenger styles. As with the clothing range, these can be personalised with names or messages. The buyer can select from eight separate designs and eight different fonts, to create a truly individualised item.




The CustomizedGirl bag range, from L to R: Mini Retro, Express Tote and Messenger styles.
Much has been written in recent times about the trend by U.S.-based fashion labels to outsource production to low wage economies. CustomisedGirl has purposely chosen not to follow that trend, and run everything in house. The company says that this gives us a huge leg-up in three areas - service, quality, and, surprisingly, costs.

Andy Hagans explains: "Our costs are much lower because of this vertical integration strategy, we are basically selling the items for their wholesale value, in other words, what we would have to pay another firm to produce them. Because of this, we are able to sell at a much lower price than any competition and still maintain a profitable margin." A look at the website tends to back up this claim - tops range in price from $20 to $27, while sweatshirts and fleeces for men and women are in the $35-45 range. (At the time of writing, there is free shipping on orders over $50 within the United States.) It takes about 14 days for an order to be produced, and about five days for shipping.

The company also offer a rush service at an additional cost, and, in a link to their origins in clothing for fraternies and sororities, they offer discounts for groups and special purchases. They draw the line at anything that would be likely to offend or breach the copyright or trademark of a third party.

Because the company's production is in-house, their customer service representatives (also in-house) are able to respond quickly and accurately to any questions or comments about orders.

"By doing it in-house we have complete control of the product, and having a quality product is what drives our business," says Andy. "We ensure that our items are not only fashionable but also durable and just overall quality-made, and you just cannot have that sort of quality control if you outsource."

The company plans to continue to develop better products, gain more exposure and introduce new fashions and designs to the market. Their aim is to ensure the quality of their product, while integrating new fashions and designs into the product line.

Various academic reports on mass customisation over the years have been critical of efforts to develop mass customisation as a side-operation to ordinary mass production. Two prominent apparel brands who have tried this approach, and failed, are Nike and Levi's. Perhaps CustomizedGirl, the dedicated mass customising enterprise started by three guys in Ohio, may yet show them how it's done.
All Pictures: Copyright CustomizedGirl.com.