Future Sonics - Changing the Sound of Music




Britney Spears, Enrique Iglesias and Faith Hill are clients of Future Sonics
2004-08-07: Future Sonics Inc., of Pineville, PA, USA, has been at the forefront of a revolution in the area of personal monitors for musicians. Their Ear Monitors® brand of custom professional personal monitor products & systems has changed the way performers listen to their own sounds during a performance.

Anyone who has been to a concert or music event will have seen the speakers sitting low on the front of the stage, angled back towards the performers. These were the traditional 'monitors'. The purpose of these monitors was to allow the performers to hear their own music and voices, as the main speaker systems are always angled outwards towards the audience. Future Sonics in-ear monitoring systems have enabled a vast improvement in the quality of monitored sound, and have reduced the need for the traditional floor mounted monitors, which were sometimes called 'wedges'.


Future Sonics founder Marty Garcia
The company was founded in 1985, but the story goes back further than that. In fact, president Marty Garcia has been seeing the technology through since his first experiments in 1979, when he started Crystal Sound, which would become Crystal-Taylor Systems. Garcia noted that one client, Todd Rundgren, was getting great monitor sound in halls and theaters where the natural acoustics had a great stage sound, but had terrible problems in arena sized venues. It became apparent that when Todd Rundgren had to sing out over the roar of instruments on stage, vocal fatigue would follow. This led Garcia to develop further the technology for in-ear monitoring systems.

Future Sonics continues to develop monitoring system technology, and has branched out into the consumer digital audio world, with products that can be used with, among others, iPods®, laptop computers, and portable DVD players.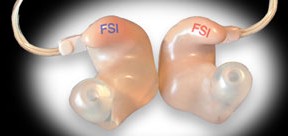 Ear Monitors® produced by Future Sonics
Of particular interest to MadeForOne.com is the Ear Monitors® brand. The name Ear Monitors, in addition to describing the product, is also a worldwide trademark of Future Sonics. These are custom made professional monitors, and according to Future Sonics, Ear Monitors place the performer in a completely customized listening environment. This environment is free from feedback, excessive stage volume, and the acoustical variability typically associated with conventional wedge / side fill monitor systems.

Every Ear Monitor set is custom fitted, and designed to be operated at safer output levels than conventional monitor systems. Ear Monitors form a secure and comfortable acoustical seal, conforming perfectly to the natural configurations of each individual ear. The high fidelity audio quality allows performers to hear themselves with studio-quality clarity.

An important aspect of personal monitor design is the sound driver. When you listen to any "armature" type earphone, the bass response is reduced when volume is increased. There is little balance when you adjust your listening levels. The potential for hearing fatigue may increase dramatically - this can occur in as little at 12 minutes. This is especially the case with hearing aid type drivers that aren't really designed for live music.

Future Sonics produces their own transducers designed specifically for the critical needs of live sound applications. The company's custom MG4 driver, which purportedly offers up to 8 dB more sensitivity, has received rave reviews from performers, engineers and the media. Marty Garcia commented, "An amazing thing is the advantages over two and 'multiple driver' earpieces. One thing that is important to mention is that in 'real-life' performance applications, those who A/B tested both types would 99 percent of the time take the full range MG4 technology. They just sound better and are more reliable."

Ordering a set of Ear Monitors involves firstly having a set of ear impressions taken at an audiologist, which are then sent to Future Sonics. The company has a network of approved audiologists in the USA, most of eastern Europe, South America, Asia, the Caribbean, and Canada. Daniel East, Director of Marketing for Future Sonics says "Since there are some specifics that we like to have addressed with regard to our specific needs for the impressions, we provide the network as a service to our clients so that they might save the potentially additional step in the process." If there is no approved audiologist in a particular region, clients are able to visit their own hearing specialist and the appropriate information, documents and information can be transmitted for completion as needed.

Future Sonics sells the Ear Monitors range directly to customers, and also through a small number of approved agents. These are Clair Brothers, who operate in a number of countries, Hand-Held Audio in the UK, and Sennheiser of France. In the U.S, CTS of Nashville, and the H.E.A.R. Organization are approved agents. Daniel East says "We have found that most people who want to apply for dealership simply aren't familiar enough with our technology to provide adequate follow-up. It is not just about producing the products, themselves, and handing them over. Each situation can be very different and a great deal relies on determining what is appropriate for the given need of the individual, group, organization, venue or a million other variables that can affect the "big picture" that is all a part of dealership status and our criteria to that end."

Ear Monitor products can be ordered with firm or soft canals (the moulded section which fits into the ear). When an order is placed, the audiologist forms can be transmitted. The details of placing a custom product order can be user-specific, and the company makes every effort to work closely with clients so that they receive all of the appropriate information for their specific needs and situation. (FSI can be contacted on the following numbers: Toll Free: (877) FSI-EARS, or outside USA +01.598.8818)

The roll call of musicians who currently use Future Sonics Ear Monitors reads like a list of the biggest bands and artists in the World. U2, REM, Snoop Dogg, Britney Spears, Destiny's Child, Luciano Pavarotti, Shaggy and Sheryl Crow are just a few of the best known artists using Ear Monitors; major event clients include the Academy Awards®, The Grammy® Awards and Riverdance. In addition, many of the major U.S. television networks also use Ear Monitors.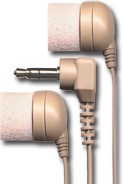 The Future Sonics Ears EM3
Future Sonics also produce the Future Sonics Ears(TM) EM3 range. These are professional quality universal fit (i.e. not custom made) personal monitors. While these ar not customised, they can in turn be combined with another Future Sonics product, the SofterWear(TM) Custom fit sleeves. These sleeves fit over the Future Sonics Ears, giving a custom fit solution at lower cost. These are a more affordable option for those who want the benefits of custom fit products. They can serve as a backup to Ear Monitors® products; or as a "stepping stone" to those products and systems.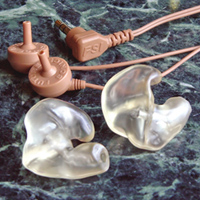 The Future Sonics SofterWear sleeves, shown here with the EM3 which has had the standard sleeves removed.
Future Sonics say that performers and engineers, as well as pro-consumer digital audio and video product users can use Future Sonics Ears and SofterWear to get into custom fit products at a fraction of the cost. A set of Future Sonics Ears currently costs $99, and SofterWear custom fit sleeves cost $135 (plus the cost of impressions by an audiologist). These products have been praised widely by specialist reviewers. Of particular interest is the reaction of Apple iPod user groups, and Apple specialist publications, who view Future Sonics Ears as a high-quality upgrade for iPods and other Apple products.

Future Sonics is also a supplier of complete sound systems, such as microphones and mixing equipment. Information on these, as well as Ear Monitors and SofterWear, can be found on www.futuresonics.com.

Leaving the last word to Daniel East, who looks forward to the future with confidence: "We are always developing new technologies and designs that are based on those relationships with our clients who give us a really excellent sense of what they'd like to see (and hear, of course) from us. Our design team is exciting to see "in action" and I am always very excited about the future of these products."