Made to Order roof systems with traditional appearance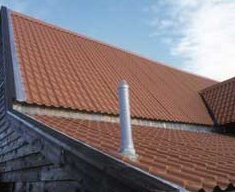 Specialist roofing and cladding supplier Kingspan Insulated Panels has launched a brand new product to complement their innovative range of time-saving, pre-engineered construction systems - the KS1000RT, Kingspan Roof Tile Insulated Panel. A steel faced insulated panel system that combines a traditional clay tile appearance with all the benefits of a lightweight fast track construction.

Kingspan Insulated Panels, which has operations in many European countries, can supply roofing systems to the exact measurements required for an individual project, with turnaround time in as little as 48 hours.

The Kingspan Roof Tile Insulated Panel is a through fixed roof panel ideally suited for industrial, commercial, retail, leisure and public sector projects with a roof pitch of 12º or more.

Because of its single fix installation mechanism it is possible to build in half the time than traditional construction methods. It eliminates the need to use individual tiles and it fixes directly to purlins so there is no need for battens, roof felt and insulation materials, or even wet trades.

The Kingspan Roof Tile design details and components can be applied to all forms of construction. Its design flexibility allows it to be used on conventional timber sub-structures as well as all contemporary steel construction.

The tile-effect roof panel system contains a FIREsafe' insulation core bonded to a metal liner sheet and profiled steel exterior. The single piece panel is available with 45mm, 60, 80 or 100mm insulation and in lengths up to 16m long. The 45mm version gives the profile the rigidity it needs to span between 2m purlins, while the 80mm version provides enough insulation to satisfy Part L Building Regulations, a 0.25 U-value for roofs.

The three-dimensional panel surface rises and falls both vertically and horizontally to reproduce the shape of laid clay pantiles. It is available in two colours, terracotta and anthracite, and has a similar gloss level to that of natural clay.

The subtle, pantile effect of the roofing system holds great visual appeal, which is combined with practical elements such as superb insulation qualities and a fast track, lightweight construction. It allows for substantial savings on structural support and its excellent insulation properties ensure 100% consistent thermal performance. Roof Tile's outstanding air leakage performance can also reduce heating costs by over 20%.