TaylorMade Introduces r7 quad Driver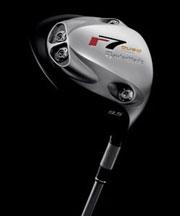 The r7 quad driver
2004-06-07 - Carlsbad, CA, USA: Golf Equipment supplier TaylorMade Golf has introduced the r7 quad, a new driver featuring a completely new technology called TaylorMade Launch Control (TLC). TLC gives players the freedom to change the driver's launch conditions by redistributing 24 grams of discretionary weight in a variety of ways. While the average driver delivers a single set of launch conditions, the r7 quad delivers six, allowing the player to choose the one that generates maximum distance, accuracy and workability.

"If your driver's launch conditions don't match up with your individual swing characteristics, you're losing distance," says Dr. Benoit Vincent, Chief Technical Officer. "By providing a range of launch conditions in one club, we've given players the opportunity to find a combination of spin-rate and launch angle that will allow them to achieve maximum distance and accuracy."

The idea for the r7 quad gained momentum when TaylorMade's R&D staff began exploring methods to redistribute clubhead weight in order to enhance driver performance. In other words, relocate weight from one area of the clubhead to another. It was determined that 24 grams of discretionary weight would be required. If a way could be devised to break down that 24 grams and reallocate it to different locations in the clubhead, it would give the driver a wide range of performance possibilities.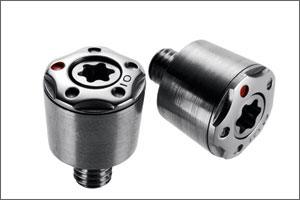 TLC Cartridges
To make it possible to redistribute clubhead weight, TaylorMade engineers devised a system of four ports, called TLC ports, which are located in the sole of the clubhead. At the same time they developed differently weighted cartridges, called TLC cartridges, which can easily be installed in the TLC ports and removed again. Installing different-weighted TLC cartridges in different configurations in the TLC ports effectively shifts the centre of gravity (CG) toward the front or the back or toward the heel or the toe. Each CG location delivers a new set of launch conditions based upon the player's personal performance needs.

"There are many, many golfers who have played the game for years with drivers whose launch conditions aren't close to being right for them," says Sean Toulon, Senior Vice President of Brand Management and Creation. "These players are sitting on distance reserves that are waiting to be tapped by a driver that will provide them launch conditions that fit their swing. TLC allows you to easily switch between several sets of launch conditions. It allows you to find the launch conditions that work best with your swing so that you can exercise your true distance potential."

The range of launch conditions that the r7 quad is capable of delivering permits it to promote six trajectory types that can help the player to hit the ball higher or lower, and at the same time provides biases that will help low- and mid-handicap players to work the ball to the right or to the left by varying degrees up to ten yards. A special tool, called the TLC Trajectory Wheel comes with the r7 quad, and is designed to clearly show which TLC cartridges are required and how they should be configured to promote each of the six potential trajectories that the r7 quad is designed to deliver.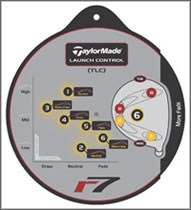 TaylorMade r7 Launch Control Chart
r7 quad TLC cartridges weigh 10 grams and 2 grams. The 10-gram TLC cartridges are made primarily of tungsten; the 2-gram TLC cartridges are made entirely of titanium. The r7 quad comes with two 2-gram cartridges and two 10-gram cartridges. TLC ports are positioned low in the clubhead, to keep the CG as low as possible. TLC ports are also positioned as far toward the clubhead's perimeter as allowable, making it possible to move the CG far enough to the locations that would deliver the launch conditions that TaylorMade engineers had targeted.

Creating the 24 grams of discretionary weight needed to make TLC possible was a challenge. TaylorMade succeeded by making the walls of the r7 quad incredibly thin, yet strong enough to withstand the rigors of impact. Whereas the walls of a typical titanium wood measure from 1.0 to 1.2 millimeters thick, the walls of the r7 quad are a mere 0.8 millimeters thick. TaylorMade call this manufacturing process Super-Thin Wall technology, and say that it is possible due to their high performance casting abilities.

TLC cartridges feature a special six-pointed drive for use with a special tool called the TLC Torque Wrench, which was created specifically to install and remove cartridges. TaylorMade chose six points to allow more points of contact for a more secure connection. Because both the 10- and 2-gram cartridges are engineered to be securely installed when tightened to greater than 30 inch-pounds of torque, the TLC Torque Wrench is self-limiting, and will deliver that exact amount of torque and no more, to prevent over-tightening the cartridge. When the TLC Torque Wrench reaches 30+ inch-lbs., it tightens no further and emits a loud click, alerting the user that the cartridge is sufficiently tight.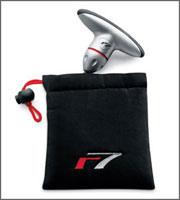 The TLC Torque Wrench
The r7 quad is equipped with TaylorMade's M.A.S.2 7 graphite shaft, weighing 65 grams and available in four different flex categories. Custom shaft options will be available starting July 15.

The r7 quad will work for players that possess the ability to repeat their swing and recognize changes in trajectory. Tour pros and low to mid handicap amateurs (zero to 18 handicap), will get the most out of the r7 quad. The head size, shape, face angle and workability are designed to work best in the hands of these types of players. This writer, on the other hand, would require satellite navigation in the golf ball to land it correctly.

The r7 quad is available in lofts of 7.5, 8.5, 9.5 and 10.5 degrees. The manufacturer's suggested retail price for the U.S. is $600. Limited availability begins in stores began on June 1, while full distribution will be reached by June 15.
All Pictures: TaylorMade