L.L. Bean Offers Custom Made Book Pack Bag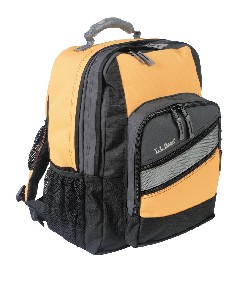 The Custom Super Deluxe Book Pack from L.L. Bean
2004-08-29 - Freeport, Maine, USA: Students returning to school or college can build their own customised book pack on the website of U.S. retailer L.L. Bean.

There are 350,000 possible combinations for a book pack, so there is no difficulty in making your pack one of a kind. Customers can choose the colour of the pack's outer panels and also the mesh water bottle pocket. Similarily, the handle grip, refective strip and zipper pull colours can be customised. In side the pack, two roomy main compartments hold books, binders and folders. The L.L. Bean website (www.llbean.com) provides 'templates' on the design page, which are starting points which the customer may wish to use in designing their book pack. Alternatively, the customer may choose to select colours for each section of the bag from the available palettes.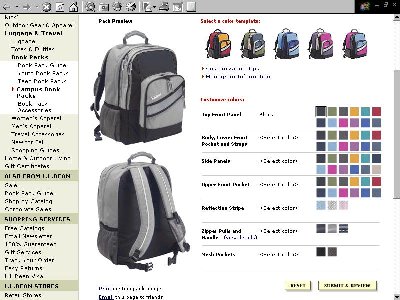 The customised book pack design page on the L.L. Bean website
The book pack features an ergonomic cushioned lumbar pad, padded back panel and contoured shoulder straps to make heavy loads more comfortable. Special details, like a mesh cell-phone pocket and an integrated CD-cord port for quick access to headphones, make it easy to grab your favorite gear.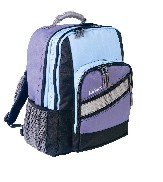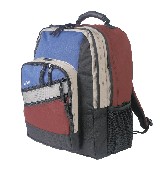 Two more examples of customised book packs
The Custom Super Deluxe Book Pack, which currently costs $59, is built from rugged, water-resistant ripstop polyester, with a supertough reinforced bottom. Perforated 3M™ Scotchlite™ reflective material is highly visible at night. There is a comfortable moulded cargo handle, and a unique Buckle Garage keeps the waistbelt out of the way when not in use. There are also two mesh water bottle pockets. The book pack dimensions are 2,250 cu. in. (17"H x 13"W x 7½"D) and it weighs 2 lb. 4 oz.

For an additional $5, a customer can add an embroidered monogram in one of twelve styles to their own L.L.Bean book pack, or make a special gift even more personal.

The customised book packs take 2-3 weeks to deliver, and are only available in the contiguous U.S. They are recommended for age 15 and upwards.