Timbuk2 Bags Designed by You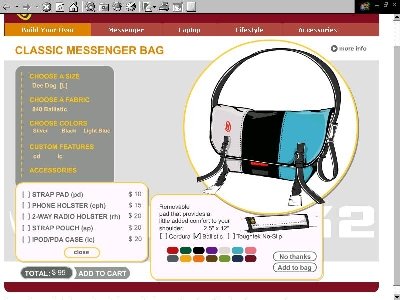 The Timbuk2 website showing a Classic Messenger Bag being designed
2004-08-29 - San Francisco, CA, USA: As September marks the beginning of school and college terms in many countries, MadeForOne.com decided to look at one or two examples of customized bags. The first company that comes to mind for custom made bags is Timbuk2. This San Francisco-based company makes a wide range of bags, but it is the Classic Messenger Bag that is of interest to MadeForOne.com, as it can be customized online at www.timbuk2.com.

The Classic Messenger Bag has a large number of standard features before any customising is carried out. The diagram below shows the standard features. These are: 1. Cross strap for stabilization; 2. Cam Buckle for adjusting shoulder strap; 3. Vista light attachment loop; 4. Removeable reflective tails; 5. Front pocket with extra zippered pocket and pen slots; 6. Key ring; and 7. Waterproof vinyl lining. There are also internal pockets, including additional pen slots and a velcro closure pocket.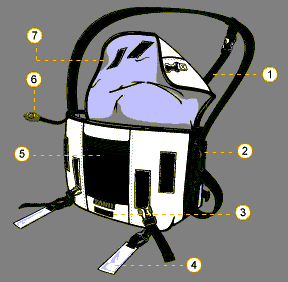 Image showing the standard features of a Timbuk2 Classic Messenger Bag
The bag can be customised firstly by size; small, medium, large and extra large sizes are available. A customer can also choose between two fabric types, Cordura or Ballistic. The outside of the bag is divided into three vertical sections, and each of these can be given any one of 16 colours. Additional custom features which can be added (at extra cost) are a centre divider, grab strap (in Cordura, Ballistic or Toughtek No-Slip material), and custom-coloured Timbuk2 logo. One free of charge option is to have the bag configured for left-handed use. A number of accessories can be added to the bag, again with an additional cost: a strap pad, cellphone holster, two-way radio holster, strap pouch and iPod/PDA case.

The interactive bag design page allows you to see how the bag will look as you select a size, add features, or select colours. The price of a bag varies with the size and options chosen. The example bag shown in screen shot above, a large size in ballistic material, with centre divider and custom logo colour, would cost $95 before delivery.