Gateway Re-Enters Build to Order Market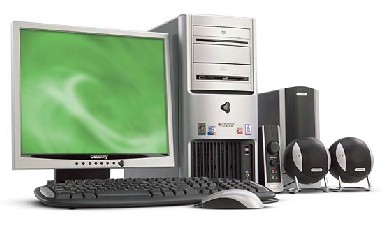 The 7200S, one of the new PC's from Gateway
2004-10-01 - Irvine, CA, USA: U.S. computer maker Gateway has unveiled a completely new line of desktop PCs for sale through the company's direct sales channels -- 1-800-GATEWAY and http://www.gateway.com. These new products mark Gateway's return to the build to order approach, which it had previously discontinued in favour of selling only through dealer channels.

Each of the new lines - the Gateway 7200, 5200 and 3200 series - may be customised with select components, including processors, displays, memory, hard drives, optical drives, speakers, audio cards, graphics cards, memory card readers, keyboards and software.

These new PCs have been optimized to meet a range of users' needs, from families who need an entry-level PC for email and word processing to tech-savvy enthusiasts who want the hottest technology to enjoy gaming and digital media.

Most of the new PCs include the new Intel 915G chipset, which utilizes the latest technology for digital entertainment and enhanced performance. Gateway's unique patent-pending design in the high-end line - the Gateway 7200 Series - optimizes Intel's BTX (Balanced Extender Technology) architecture to deliver advances that result in a cooler and significantly quieter PC. The new Gateway 7200 series is introduced on the heels of the Gateway 700GR desktop PC - the industry's first BTX desktop PC - which was recently made available through technology and electronics retailers.

"Anyone looking for a new PC will find the system that is ideal for them at Gateway," said Ed Fisher, Gateway, Inc. senior vice president of product planning. "These new PCs offer the best available technology at every price point to help our customers get more productivity and enjoyment out of their purchase. Plus, since our customers can customise their own system, they can choose the features they want, or eliminate the extras they don't need."

The high-performance Gateway 7200 series - starting at a price of $1,249.99 - features the latest technology for PC enthusiasts and power users who want a system that provides cutting-edge technology for games, digital video editing and other demanding applications. The brand new design -- based on Intel's BTX architecture and optimized by Gateway -- features a more efficient and reliable cooling system that acts as a wind-tunnel to cool the internal components. By circulating up to three times the airflow of traditional PCs, the Gateway 7200 series PCs stay cooler and can handle high-speed processors as well as the fastest graphics cards, add-in cards and hard drives available today and in the future. System reliability is also increased because the components run cooler than before. The new design also better cools PCI Express video cards, since they face the wind tunnel. Additionally, this change in position allows the highest end video cards to occupy only one slot, instead of two, leaving an additional open slot for gamers and power users to fill. Gateway's innovative BTX case is ready for expansion with seven bays and five PCI slots (one PCI Express x16, three PCI and one PCI Express x1 slot.) To achieve the wind tunnel effect, the BTX case uses extra large fans that spin at 40 percent slower than normal. The result is whisper-quiet operation appropriate for any room of the home. The BTX case is so efficient, that it can cool ATI's most powerful graphics card, the X800XT, without a fan on the graphics card. In addition to being cool and quiet, the Gateway 7200 series incorporates the latest technology, including the multiple ways to access and store digital media, fast Intel Pentium 4 processors with HT technology and the Intel(R) 915G chipset. The new chipset provides an improved multimedia performance for gaming and video. Further contributing to the entertainment experience, the 7200 series utilizes Intel High Definition Audio for high-fidelity 7.1 surround sound. Additionally, the new line supports the next generation in hard drive technology -- Serial ATA. The systems feature the latest in networking technology -- integrated Gigabit (10/100/1000) Ethernet -- to ensure a fast network connection.

The new Gateway 5200 series PCs is targetted at the mid-range market, with prices beginning at $849.99. These machines at targetted at consumers who use their PCs for digital hobbies, entertainment and every-day productivity. And because the systems can be customised, customers can choose the features that appeal most to them.

Utilizing the new Intel 915G chipset, the Gateway 5200 series includes Intel Graphics Media Accelerator 900 technology that is 170 percent faster than before and provides improved video performance, supporting the latest games and multimedia applications. Additionally, the new line supports next generation Serial ATA hard drives and utilizes Intel 5.1 channel High Definition Audio for a true home theater experience. The desktop PCs are network- or broadband-ready with integrated 10/100 Ethernet and a 56K v.92 modem. At the entry level, customers needing a PC ready for email, web browsing, word processing and other productivity functions can order the Gateway 3200 series. This budget-conscious line of PCs features Intel Celeron or Pentium 4 processors, a sleek new design, and everything needed for basic computing at a very attractive price.

Unlike many other entry-level offerings, Gateway's 3200 series PCs come standard with large flat 17-inch CRT monitors, which are superior to curved CRTs because they greatly reduce distortion at the edge of the picture. These monitors are fully configurable and may be upgraded to a flat panel LCD display if desired, like many other features on the three new lines of PCs.

The Gateway 7200, 5200 and 3200 series desktop PCs comes standard with Microsoft(R) Windows(R) XP Home Edition. Windows XP Professional and Microsoft Office can be selected as an upgrade if desired.

In addition to the company's online support center, Gateway offers a pro-active service tool called BigFix(R) at no charge on all its PCs. With the customer's permission, BigFix identifies and sends messages offering upgrades to enhance the performance or capabilities of the PC.

It should be noted that the new range of machines is not available in Europe. Gateway withdrew from selling in European markets in 2002, and has not indicated any planned return, either through dealers or direct selling.