Campaign Signs Customised at AAASignsOnline.com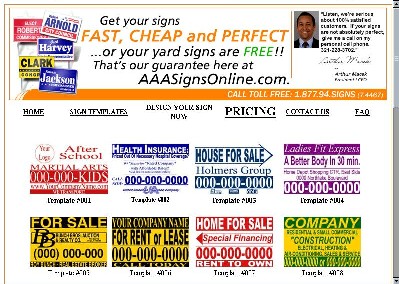 An image of the AAASignsOnline.com website
2004-10-21 - Florida, USA: A Florida based company, AAASignsOnline.com, can provide quality plastic campaign signs that can be entirely customised within their newly-renovated website. The Florida-based company is open 24 hours a day, 7 days a week, offering customisable campaign signs, real-estate signs, and other yard signs.

With the U.S. campaign season in full swing, plastic campaign signs abound. While a sign saying "Bush-Cheney" or "Kerry-Edwards" is unlikely to persuade voters who to elect as the next U.S. president, campaign signs with a strong message can easily persuade voters who are uninformed of the candidates in a political contest, or at least encourage them to seek out more information. AAASignsOnline.com is a newly-renovated website dedicated to providing quality wholesale campaign signs and other plastic yard signs.

With AAASignsOnline.com, the background and font colour, font style, and the graphical layout of each sign can be completely customised from the templates available on the website. The site makes available several design templates for political campaign signs, for-sale signs, and more. The sizes of campaign signs and other templates range from a 12inx18in medium size, to an extra-large 36inx48in size.

AAASignsOnline.com state that each order is handled with highest attention to detail and customer satisfaction. "If the order that arrives is not the same as the proof, itís absolutely free," says AAASignsOnline.comís President, Arthur Macek. "Thatís our promise."

The company also maintains a legally binding obligation to complete every order and verify all of the necessary text, graphic designs, printing, and shipping procedures are accounted for upon payment.

Customisable campaign signs can be ordered by calling 1-877-94-SIGNS (within the U.S.) - a free layout design is provided - or by visiting www.AAASignsOnline.com. The company offers a "rush my sign order" option to expedite the delivery process.