Starbucks Launches The "Hear Music Media Bar"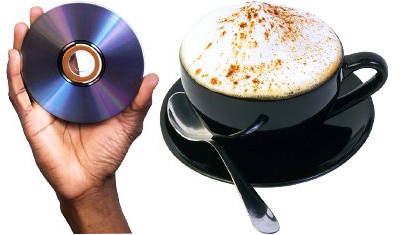 2004-10-21 - Seattle, Washington, USA: The Starbucks Coffee Company (Nasdaq: SBUX) has announced the national launch of the Hear Music™ media bar. This innovative service, powered by HP (NYSE, Nasdaq: HPQ) technology, allows Starbucks customers to create personalised CD compilations and burn full-length albums from a vast digital library of songs. In the first phase of a multi-phased national rollout, 45 Starbucks retail locations will offer this new music service.

Founded in 1990, and acquired by Starbucks Coffee Company in 1999, Hear Music is not a traditional record label or distributor. Hear Music has a catalog of more than 100 CD compilations, from which it handpicks songs from new and classic records to create CDs that help people discover music they might not hear otherwise.

"The Hear Music media bar demonstrates another highly strategic extension of our brand as we continue moving towards our goal of transforming the way music is discovered and acquired," said Howard Schultz, Starbucks chairman. "Starbucks is a trusted, familiar and convenient destination for millions of people every week, and by offering compelling music services like this to our customers, we are continuing our tradition of delivering innovative products and services that enhance the overall Starbucks Experience."

The initial Hear Music media bar rollout, which builds on the success of the Starbucks Hear Music Coffeehouse in Santa Monica, California, will reach 15 Starbucks stores in Seattle beginning October 18, and 30 stores in Austin, Texas starting on October 25. The rollout will continue throughout November 2004.

"Starbucks offers a unique entertainment experience for both young music fans, and older, disenfranchised consumers who still have a love for quality music, but are not typically embraced by the music industry," said Ken Lombard, president, Starbucks Entertainment. "Through the Hear Music media bar, we will help customers discover new, emerging and essential music, along with their favorite heritage artists in all genres."

Inside participating Starbucks locations, customers will interact with the Hear Music media bar at self-service screens placed throughout the store. Using a stylus pen on a touch screen, customers will be able to:
- Explore musical interests through exclusive Hear Music editorial features and recommendations;
- Quickly burn existing albums or create custom CD compilations, song by song, from an initial catalog of more than 150,000 hand-picked songs covering a wide array of genres;
- Select personalised album artwork and titles for custom CDs;
- Listen to full-length songs and albums before purchasing;
- Pay for CD creations using a Starbucks Card or most major credit cards, including Starbucks own Card Duetto™ Visa; and
- Purchase a custom CD at the price of $8.99 for the first seven songs and $0.99 for each additional song.

HP, which is the preferred technology provider for both Starbucks corporate headquarters and its retail stores, jointly develops solutions with Starbucks that support and enhance the overall Starbucks Experience. The Hear Music media bar is powered by HP software, hardware and services, including HP Tablet PCs, workstations, printing technology, networking, and design and integration services that enable the innovative touch-screen interface for customers to create and burn their own CD simply and easily.

"The Hear Music media bar shows what's possible when two great brands like HP and Starbucks collaborate to create new consumer entertainment experiences," said Gary Elliott, vice president, Brand Marketing, HP. "Our collective goal was to simplify how Starbucks customers can discover, access and enjoy music."

"For non-traditional 'music companies' to be successful as media distributors, they must seamlessly implement products and services that are a logical extension of their natural brand offerings," said Mike McGuire, Research Director of business and technology consultancy GartnerG2. "This initiative leverages and extends the Starbucks core competencies and unique assets. With the number of customers visiting a Starbucks each week, the Hear Music media bar could assume an important role as a future media hub."

In addition to the extensive catalog of songs, Starbucks plans to offer exclusive content to consumers through the Hear Music media bar. Eclusives include Starbucks-sponsored live performances from chart-topping artist Jill Scott and Mos Def, who performed in Seattle on October 18; and Willie Nelson, who will headline a concert in Austin on November 14. Starbucks also collaborated with Rhino Records to secure exclusive distribution rights of live recordings from the recent Austin City Limits Festival, which featured many well known and emerging artists. Select audio tracks from these concerts will be available for burning exclusively at the Hear Music media bar and at the Starbucks Hear Music Coffeehouse in Santa Monica, in the weeks following the launch of the service.

Further demonstrating the impact that Starbucks is having on the music industry, the national launch of the Hear Music media bar comes on the heels of the highly successful sales of Ray Charles Genius Loves Company; the launch of Starbucks "Hear Music" Channel 75 on XM Satellite Radio; the introduction of the new Starbucks Hear Music Coffeehouse retail concept; the recent release of Emmylou Harris Artist's Choice™ compilation CD; and the future release of Norah Jones Artist's Choice™ CD in early November.

Starbucks, which has over 8,500 outlets around the World, expects to extend the Hear Music media bar to other Starbucks locations in 2005. For more information on the Hear Music media bar and to find store locations in Seattle and Austin, consumers can visit http://www.starbucks.com/hearmusic.