Avery Personalised Fun Stamps Speak A Thousand Words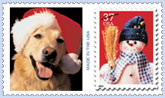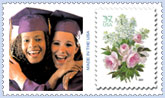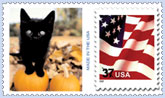 Examples of Avery Fun Stamps
2004-10-28 - Los Angeles, CA, USA: Avery Dennison, the adhesive products specialist, has entered the personalised stamp market with Avery Fun Stamps(TM).

With 20 billion pieces of mail moving coast to coast in the U.S. this holiday season, Avery Fun Stamp say that one of their custom designs will not be just 'another stamp in the crowd'.

Now that a digital camera and computer are in almost every home, consumers have more opportunity for expression and creativity with personalised Christmas cards and photo-related gifts this year than any preceding holiday season. Where previously cards were the personal work of art, now the postage stamp itself conveys a thousand words.

From Avery Dennison, the sticky experts, the new online postage label design service allows anyone to personalise official U.S. Post Office postage by simply going to www.funstamps.com, selecting the official postage stamp offered, attaching your own jpeg or pdf photo and placing your order. Orders are typically processed and shipped within seven to ten days via First Class Mail. Each sheet contains 20 personalised postage labels featuring a professionally printed, high-quality image of the selected photo next to an affixed official U.S. postage stamp. The cost of a sheet is $19.95.

"Don't forget those letters to Santa. Your personal stamp will stand out in the bags of mail delivered to the North Pole, putting you at the top of his list," advises Mary Veiram, chief of the elves workshop at Avery Fun Stamps.

"People are particularly interested in using Avery Fun Stamps for the holiday cards they send, but we think people will find that Avery Fun Stamps are a terrific holiday gift for college students, grandparents and even that person on your shopping list who has everything," added Veiram.

Brides were among the first to use Avery Fun Stamps when they were launched earlier this year. It is common for today's brides have multiple mailings. Many are creating defining moments by personalising every envelope with a different Avery Fun Stamp from the engagement party announcement to the wedding invitation and thank you note.

The Avery Fun Stamp range differs in a significant way from the unrelated PhotoStamps product which was withdrawn at the beginning of October. Whereas PhotoStamps allowed a customer to insert their chosen image within the stamp itself, Avery Fun Stamps have the customer's image inserted alongside a standard U.S. postal service design (see examples above).

Also, the customer is required to agree with strict terms and conditions before they can upload their images to the Avery Fun Stamps ordering system. Among the conditions are a ban on advertising, copyrighted images or pornographic images. It also disallows any other image likely to cause offence. This appears to be intended to deter those who might use images that would show the service in a bad light. Some unlikely images did get through the PhotoStamps filtering system - one satirical website managed to get a picture of former Yugoslavian President (and indicted war criminal) Slobodan Milosevic on a PhotoStamp.