'Light-to-Order' By Rejuvenation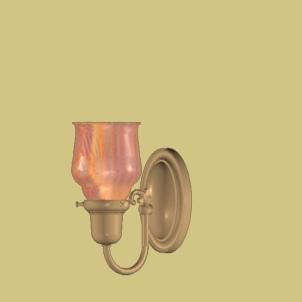 The Jewell lamp, an example of Rejuvenation's build to order range
2004-10-28 - Portland, OR, USA: Rejuvenation, the manufacturer of period-authentic lighting and house parts, has made it easier for customers to buy personalised lighting with the launch of a new build-to-order feature on the company's web site (http://www.rejuvenation.com/). Rejuvenation is America's largest manufacturer of authentic reproduction lighting. Founded in 1977, the private company's products can be found in homes, commercial and public buildings throughout the United States, including Grand Central Station and Graceland.

Rejuvenation's reproduction light fixtures can be customised to suit people's homes and personal styles with 12 different hand-applied metal finishes, dozens of glass shade options, and variable lengths, arm choices, and switch options.

In addition, for many fixtures the build-to-order tool offers a full-colour rendered preview that allows customers to visualise how their choices will affect the look of a fixture, making it much simpler for them to create the most appropriate fixture for their home. These visual renderings, similar to computer animation, change in real-time as customers select their options. The renderings can also be rotated for viewing the fixtures from various angles.

"Buying lighting online can be challenging, especially with the number of options we offer for our fixtures" says Rejuvenation Web Director John Klatt. "Our new build-to-order tool simplifies the ordering process and eases the leap of faith for our online customers."

Klatt adds that the tool is also useful for catalogue and retail store shoppers by allowing them to create and picture far more fixture choices than Rejuvenation could possibly photograph or display in a store.

The build-to-order feature has visual renderings immediately available for more than 130 of Rejuvenation's light fixtures. The renderings will be available for all of Rejuvenation's lighting and for select house parts in coming months. A kiosk in the company's Portland, Ore. store enables store shoppers to utilise the build-to-order tool and a kiosk will be added soon to Rejuvenation's Seattle store, Rejuve Seattle.