Ford Upgrades the FordDirect Online System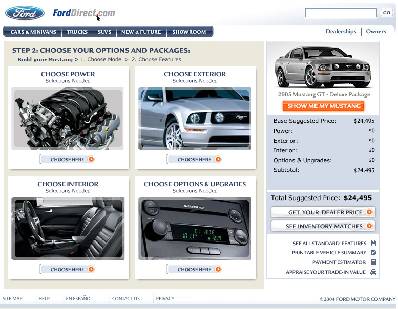 A screen shot of the FordDirect website

2005-02-01 - New Orleans, USA FordDirect unveiled a new technology platform, FordDirect 8.0, at the U.S. National Automobile Dealers Association Convention. The new system will significantly enhance the customers' online experience and improve the way users research and shop for Ford vehicles online.

FordDirect.com is a joint venture between Ford Motor Company and its Ford franchised dealers to provide information and online vehicle sales quotes directly to consumers. (You can see advertisements for the service here at MadeForOne.com.) Launched in August 2000, FordDirect has more than 3,700 participating Ford, Lincoln and Mercury dealers located in all 50 U.S. states.

The new technology will enable consumers to shop online the way they shop offline. From building vehicles without constraint to comparing inventory with only the features a consumer indicates, the site is designed to simplify the shopping process. Based on consumer usage patterns the site will create a user-defined experience.

"The FordDirect website is evolving toward providing consumers with a customized and personal online shopping experience," said Steve St. Andre, FordDirect president and chief operating officer. "The first applications on our new platform will make building a vehicle and finding it in a dealer's inventor a faster, more intuitive process. The goal is to eventually customize the entire process based on a consumer's needs and preferences."

First applications of the new technology platform are:

* Visual Build and Price - Configuration, or selecting options to build a vehicle, on sites today is a linear step-by-step process. FordDirect's Visual Build and Price will allow users to define their own path through an interactive configuration process that allows them to pick as many, or as few options as they want. Consumers will be able to see how their choices look on the vehicle with an updated photo in real time.

* Fast-Filter Inventory Match - FordDirect's next generation of inventory matching makes it easier for consumers to find the vehicle they are looking for in a dealer's inventory. Using an interactive grid, consumers can quickly and easily designate the options they want and pinpoint matching vehicles. The customer will be able to evaluate vehicle attributes and make intelligent trade offs. The system will also allow users to compare against both in-stock inventory and inventory that is in-route to the dealership.

* Virtual Lot Search - FordDirect's Virtual Lot Search visually depicts a dealer's inventory, similar to a bird's eye view of the dealer's lot. Consumers can simply indicate their requirements and quickly filter through a dealer's inventory to find the vehicle they are looking for. Consumers can also adjust their price range to view the vehicles that fit in their budget.

* Interactive Quick Quote - Consumers who simply want to contact a dealer immediately to get a price quote will have a visual, interactive quote page that will enable them to quickly contact a dealer and still have the opportunity to select options and view their selections.

FordDirect 8.0 is the result of a partnership between Trilogy and FordDirect to continually evolve FordDirect.com with cutting-edge technology. The first enhancements will be made in the first quarter of this year and additional features will be rolled out throughout 2005.

"Trilogy is excited to partner with FordDirect to deliver real business value through next generation web applications and put them to use today," said Joe Liemandt, Trilogy president and chief executive officer. "This year, consumers will be seeing some very exciting technology on FordDirect.com, which will not be available on any other automotive website."