Rand McNally Introduces CustomView(TM) Wall Maps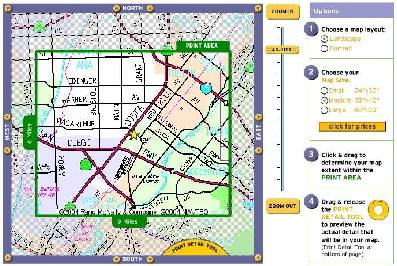 An image of the Rand McNally CustomView map making facility

2005-02-01 - Chicago, IL, USA: Rand McNally, a long established provider of mapping, routing and trip-planning tools is introducing a new self-service mapping tool at http://customview.randmcnally.com/. This new service allows businesses to quickly create large, high-quality, affordable, customized wall maps to suit their distinct business needs - The patent-pending Rand McNally CustomView(TM) Wall Maps system provides an easy-to-use mapping tool that guides users with simple step-by-step instructions, and enables the customized mapping of a specific area, such as a neighborhood or delivery zone.

Compared to the expense and lengthy production time associated with traditional customized maps, these high-quality wall maps are available for as little as $99 and can be printed to order in just two business days.

Rand McNally says that the CustomView Wall Maps provide unparalleled street detail, accuracy and easy cross-reference to the printed Rand McNally Street Guides and The Thomas Guide(R) books, which are the standard in street-level mapping and routing with many businesses and emergency response services.

Any business that needs quick visual access to street-detail maps and location information will find Rand McNally CustomView Wall Maps to be a valuable tool. These wall maps may be used for location analysis, delivery and service routing, territory planning, finding customer locations and professional presentations.

Businesses that may especially benefit from the maps include local delivery and service industries, livery, real estate, public transit, education, retail, home service providers, restaurants with delivery service, legal, finance, banking, insurance, cable companies, utilities, security services, government, municipality and emergency services.

For instance, by consulting a detailed Rand McNally CustomView Wall Map of their restaurant's delivery area, restaurant managers can give their drivers a specific Page & Grid reference for each scheduled stop. Drivers can quickly look up these grid coordinates in the Rand McNally Street Guides or Thomas Guide(R) books in their vehicles. As a result, deliveries become faster and more efficient, leading to increased customer satisfaction and repeat business.

Once users have previewed and created a map, they can take advantage of the 'Send-to-a-Friend' feature, which allows them to e-mail a link where friends, clients, colleagues or supervisors can view the map for a second opinion or approval before placing the order. Purchase orders will be accepted.

Printed with fade-resistant UV inks and durable lamination, the wall maps are available in three sizes - small (24inx30in), medium (32inx40in) and large (46inx60in) - which cost $99, $169 and $249, respectively. Rand McNally CustomView Wall Maps are available in more than 25 major US metropolitan areas, including Las Vegas, Miami, Houston and San Francisco, and may be accessed at http://customview.randmcnally.com/. Rand McNally do not have any current plans to extend the CustomView service for locations outside the U.S.