Fanless Computers that Fit In the Palm of Your Hand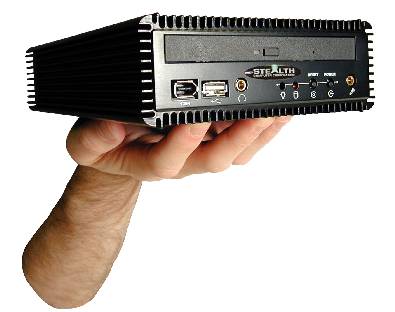 The Stealth LPC401FS fanless computer

2005-02-15 - Toronto, Canada: Stealth Computer Corporation, an ISO 9001 manufacturer of specialized computers and peripherals have continued their tradition of providing small form, powerful, PC based solutions to a growing marketplace. Stealth has introduced their latest model: LPC-401FS Fanless Little PC, which delivers a fanless noise free computer system small enough to fit in the palm of your hand. The robust anodized aluminum chassis measures just over 2 inches tall having the overall footprint about the size as a hard cover novel (10" x 6.1" x 2.17") and weighing in at just 5lbs.

Stealth's LPC-401FS LittlePC has been designed without cooling fans as the rugged extruded aluminum chassis acts as a passive heat sink dissipating internal heat and providing fan -free quiet operation. An Intel Celeron Mobile 1.5GHz CPU provides the processing power to take advantage of most demanding applications. A multitude of I/O connectivity is built-in such as; LAN, Serial, Parallel, 3-USB, FireWire, video, PS/2 Mouse & Keyboard ports. The LPC-401FS has a built-in 2.5in high-shock hard drive with up to 80GB of storage space for archived data. For applications that require extra high shock/vibration an optional Solid State Hard Drive or Flash Drives are available. A slim CD-ROM is standard with optional DVD, CD/RW and DVDRW drives available. Systems are compatible with WIN XP/2000, Linux and can be pre-configured if desired. The LPC-401FS operates from 12 volts DC making it ideal for mobile and field deployment. Stealth's built to order manufacturing offers a wide range of configurations built to the customers exact specifications.

According to Stealth's President & CEO, Ed Boutilier, "We believe we are delivering the most powerful, feature rich, small footprint PCs available today". Boutilier says "we are experiencing an early trend where Small Form Factor computers are showing rapid growth in the marketplace evidenced by Apple's recent release of their Mini-Mac". Stealth has been shipping numerous versions of their LittlePC products for over 2 years.

Founded in 1990, Stealth Computer Corporation is quietly evolving as a leading provider of specialized Computers and Peripherals. The LittlePC products serve a demanding market where powerful solutions are being deployed in spacechallenged applications around the world. Thanks to the rugged design, compact dimensions, and high functionality, the LPC-401FS Fanless PC is ideal for diverse and demanding applications within the Industrial, Commercial, Scientific Research, Military, Public Safety, Utility, Transportation, mining and Telecommunications markets. Stealth Little PCs are shipping now with prices starting at $795.00 USD. More information is available on the LittlePC website (www.littlepc.com).