SkinIt.com Expands Personalization Opportunities for 200 Additional Mobile Phones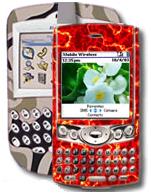 Examples of SkinIt.com's personalized skins, shown here on a Blackberry RIM and PalmOne Treo.

2005-02-19 - Golden, CO, USA: SkinIt.com, a supplier of personalization materials for personal devices, has announced the first vinyl skin products for over 200 new models of mobile phones, encompassing the complete current phone line-up for all major US mobile phone carriers.

SkinIt.com's personalized vinyl skins now support the complete current phone-line up for Alltel, CellularOne, Cingular, Cricket, metroPCS, Nextel, Qwest, Sprint, T-Mobile, US Cellular, Verizon, and Virgin networks. To accomplish this SkinIt is adding support for over 200 new phone models, bringing the companies total product support to over 500 devices. SkinIt's removable, adhesive backed vinyl phone skins are manufactured with the highest quality materials and are precision cut, based on each devices unique physical design, to insure a perfect device fit. Consumers can choose from thousands of different designs or upload their own photo or artwork to be transformed into a unique physical skin for their mobile phone.

"We at SkinIt continue our commitment to support all current phone models offered by US carriers," said Tom Stemple, Co-Founder of SkinIt Inc. "With the launch of these 200 plus phones SkinIt has solidified our reputation as being the largest consumer electronic personalization company in the world."

SkinIt's new phone support list includes:
Alltel- Motorola V710, Kyocera SE44, Audiovox 8910, Motorola V262, LG LX5550, Kyocera 3250, LG VX3200, LG LX5450, Nokia 3587i, Audiovox 8410, Motorola T720, & Kyocera 7135.

CellularOne- Audiovox 8410, Kyocera 7135, Kyocera Aktiv, Kyocera KE414, Kyocera Slider, Kyocera Soho (KX1), LG LX5550, LG VX3200, Motorola E310, Motorola V60si, Motorola V810, Nokia 3587i, & Nokia 6015.

Cingular- LG L1400, Samsung X427M, Motorola V180, Nokia 6010, Nokia 3120, Samsung C207, Nokia 6820, LG C1300, Sony Ericsson Z500a, Motorola V220, Nokia N-Gage QD, Samsung e317, Nokia 6230, LG F9100, Siemens S66, Motorola V551, Nokia 6620, BlackBerry 7290, palmOne Treo 600, Motorola MPx220, palmOne Treo 650, & Motorola RAZR V3.

Cricket- Kyocera K493 Energi, Motorola C341, Kyocera SE47 Slider, Motorola E310, Audiovox CDM-8900, & Kyocera Koi / KX2.

metroPCS- Samsung A610, Samsung A670, Nokia 6225, Nokia 6015, Nokia 3205, Nokia 2270, LG LX1200, LG LX5400, Audiovox 8615, Audiovox 8900, & Kyocera RAVE.

Nextel- Motorola i205, Motorola i530, Motorola i860, Motorola i830, Motorola i710, Motorola i730, Motorola i58sr, Motorola i305, Motorola i315, Motorola i325, & BlackBerry 7520.

Qwest- Sanyo RL4920, Sanyo PM8200/SCP-8200, Kyocera Energi K490/K493/K494, Samsung SPH-A680/VMA680, Nokia 6225/PM6225, Kyocera SE47/SE44/V5 Slider, Motorola v60p/v60s, Motorola T730/T731c, & Kyocera KE413/KE414 Phantom.

Sprint- Samsung VI660, Nokia 6016i, Sanyo RL-4920, Samsung RL-A760, Samsung PM-A740, LG PM-325, Samsung A600, Motorola V60v, Sanyo RL2500, Sanyo RL-7300, Sanyo PM-8200, Toshiba VM4050, Sanyo MM-7400, Sanyo VM4500, Samsung MM-A700, Samsung i500, palmOne Treo 650, & Samsung SP-i600.

T-Mobile- Nokia 6800, Nokia 6010, Samsung c225, Siemens CF62T, Motorola V180, Motorola C650, Motorola V300, Samsung e315, Sharp TM150, Nokia 3660, Samsung e715, Motorola V600, Nokia 6600, Motorola A630, Samsung d415, &Samsung p735.

U.S. Cellular- Motorola v810, Kyocera SoHo, Motorola C343, Audiovox CDM-8410, Kyocera KX414, Nokia 6019i, Nokia 6585, Kyocera Slider, Motorola v262, LG LX5550, LG VX6000, Kyocera Koi, & Motorola v710.

Verizon- Nokia 6015i, Samsung SCH-a650, LG VX3200, Kyocera K404, Audiovox CDM8910, LG VX4500, Samsung SCH-a670, Motorola V265, LG VX6100, LG VX7000, Kyocera KX2, Motorola V60p, LG VX8000, Audiovox CDM8940, Motorola V710, Samsung SCH-a890, PalmOne Treo 600, BlackBerry 7750, BlackBerry 7250, & Samsung i600.

Virgin- Audiovox Flasher V7, Kyocera Slider V5, Audiovox 8610, Kyocera K9, Audiovox 8500, & Kyocera K7 RAVE.

SkinIt "skins" are manufactured utilizing professional grade vinyl, which is printed through a 6-color process with vibrant and sharp designs. The skin is then coated with a scratchproof finish and custom cut creating a product that fits the device perfectly and last for years. By utilizing SkinIt technology a consumer can now change the physical appearance of their mobile phone, MP3 player, PDA, satellite radio, portable game device or any other personal electronic device. Consumers can purchase a SkinIt to personalize their mobile device at thousands of retail outlets as PIN cards redeemable at SkinIt.com, through private labeled carrier, hardware manufacturers, and retailer websites as well as through the companies own personalization portal, www.SkinIt.com.

Click here to visit SkinIt.com to purchase items.