121Time Add Colours, Sapphire Glass to Customized Watch Range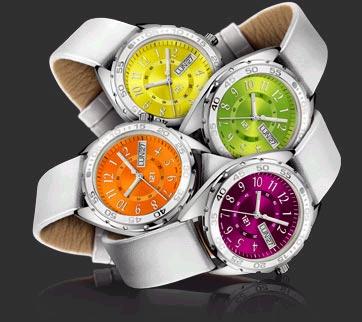 The new colours for the Challenger Lady range of customized watches from 121Time

2005-02-24 - Martigny, Switzerland: 121Time, the Swiss customized watch manufacturer, has added new colour options to its Challenger watch range. It has also added the option of using scratch-resistant sapphire glass.

This spring, you can make a colourful statement with a Challenger watch from 121TIME. The bright new colours orange, purple, yellow and light green have been added to the options on the watch face of the sporty, trendy Challenger Lady model. The watch features a 32 mm stainless steel case, a rotating bezel coated with epoxy resin and a diver's scale with polished numerals and, for optimum readability, luminous hour and minute hands. The watches in the Challenger Lady collection come in a breath-taking array of colours and types and, for a really impressive appearance, can feature top-quality diamonds or sapphires. Prices for the Challenger Lady range start at 200 Swiss francs, depending on the components.

The other innovation by 121Time this spring is the option to use sapphire glass. As of now, all watches of their Metropolitan, Centurio and Challenger Gent collections are available with scratch resistant sapphire glass.

For a supplement of 35 US$, you can upgrade your 121TIME watch with this high-grade material. On the 121Time online ordering system, you'll find this new option in the "Size & option" menu by clicking on the "Glass type" button. Sapphire Crystal is an aluminium oxide based high grade and scratch-resistant crystal up to seven times harder than stainless steel.