K.M.E. Announce Personalized PA Systems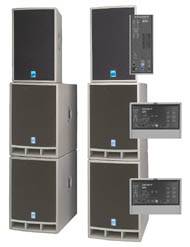 The new personalized PA sound system by K.M.E.

2005-03-02 - Klingenthal, Germany: Sound equipment maker K.M.E. (Klingenthaler Musikelektronik) has launched two new sound systems, which can be customized to individual customer requirements. Based on the successful concept of CA 6, two new components for active systems CA 4 and CA 8 are launched together with top part CSA 600 D and subwoofer CBA 800 D.

CSA 600 D is described as a full range top part with 15" neodymium speaker, bi-amped with digital amp 600 W RMS for bass/mid and 100 W RMS high. Plug-in modules DDM (digital delay module) and MM2 (mixer module) may be installed optionally. The 18" subwoofer CBA 800 D has a 800 W RMS digital power amp and with a substantial lower limit frequency of 33 Hz it may optionally be equipped with the new plug-in connection module CM CA 4 or the well-established DDM. The dual transport cover for easy handling comes as standard with this subwoofer.

CA 4 takes pole position as a powerful sound system for entertainment, featuring 1.8 kW RMS! The two top parts CSA 400 D in combination with subwoofer CBA 800 D and integrated plug-in module CM CA 4 provide an excellent system for entertainers, mobile DJs and smaller bands. CA 8 is a sophisticated plug & play pro-audio-system for show/cover bands and hire companies. The two top parts CSA 600 D paired with four subwoofers CBA 800 D produce 4.6 kW RMS and deliver a clear, undistorted sound for venues ranging from club-gigs to city open air concerts.

The new active units are available as solo, basic and standard set configurations and may be supplemented at any time. They offer powerful dynamics through multi-band limiting, and have a lightweight design. They are equipped with neodymium speakers, featuring speaker impregnation and polyurethane-coated cabinets.