A New Spin on Personalized Stationery and Gifts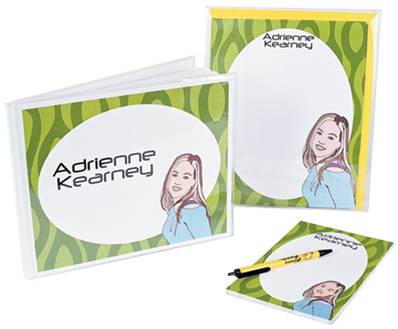 An example of personalized stationery from Shout-Outs.com

2005-03-11 - Los Angeles, CA, USA: Shout-Outs.com, LLC offers a new spin on personalized stationery and gifts with a custom line that featuring the customer's Shout-Out(R) illustration. Working from a photo, Shout-Outs' artists draw a one-of-a-kind illustration which then is used on a variety of stationery and gift options including gift sets, journals, scrapbooks, posters and framed prints.

The process is simple - a customer logs on to www.Shout-Outs.com and selects the products on which they want to put their illustration. After choosing from one of the dozens of background patterns available, the last step is to upload a photo. Within a few days, Shout-Outs emails a proof of the customer's illustration for approval before printing.

"I'm thrilled that customers are excited about our products," says Penna Omega, founder of Shout-Outs.com "Our custom illustrations gives our products a unique flair that goes beyond standard personalized stationery and journals and also makes the perfect gift for kids, teachers...anyone!"

One-time illustrations fees are $100 for the first person/pet and increase by $50 for each additional illustration. The company recently added posters and framed prints to its product mix and plans to continue adding new products regularly. Gift Certificates are also available in $50, $100, and $150 denominations.

At the 2005 GRAMMY(R) Awards on February 13th, taking home the hottest new trend in personalized paper goods. Each presenter and performer received Shout-Outs Illustrated Stationery featuring their image in Shout-Outs trademark unique and hip style.

Distinctive Assets, producers of the gift bags valued at over $35,000, hand selected the products that will be hot in 2005 for inclusion in the exclusive bags which were presented to celebrities including Jennifer Lopez, Marc Anthony, Alicia Keys, Tim McGraw and many others.

"When we first saw Shout-Outs Stationery, we knew it had to be included in the GRAMMY swag," said Sara O'Hair, COO of Distinctive Assets. "The artwork is so unique and the items are perfect for everything from everyday notes to special invitations. We can tell they will be a big hit."

Shout-Outs Stationery is available online at www.Shout-Outs.com or by calling (U.S)323.464.6800. A list of retail partners and locations can be found on www.Shout-Outs.com.