XPS Gen 2 Allows Dell Buyers to 'Pimp My Notebook'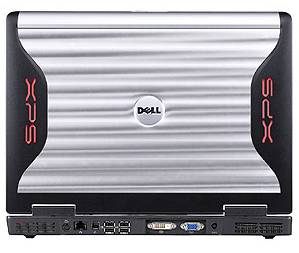 The new Dell Inspiron XPS Gen 2 notebook. (Picture: Dell Computer)

2005-03-22 - Round Rock, TX, USA: Dell's new Inspiron XPS Gen 2 notebook is a reflection of how seriously the company is treating the gaming market. Dell, who have become synonymous with made-to-order internal specifications on PC's and notebooks, have, with the XPS Gen 2, also turned their attention to customizing a machine's external aspects.

The XPS Gen 2 has a completely redesigned black and silver chassis with LED perimeter lighting in 16 different colors. These are customizable via the XPS interface of Dell's power management application, QuickSet. In addition, a transparent personalization cover easily snaps on to the notebook's brushed-metal lid. This can include imagery from games such as Guild Wars, City of Villains and CSI. If these options are not individual enough, it is possible to print your own personal display page for use with the personalization cover. Dell say (with a tongue very much in cheek) that the personalization features on XPS Gen 2 allows customers to distract and intimidate the competition. It is likely that many of these notebooks will become the computer equivilent of the customized cars that are seen on a certain MTV programme.

In addition to the personalization options, the specification of the Gen 2 is aimed firmly towards gaming use. The processor is the Intel(R) Pentium(R) M 760 (2GHz, 533MHz FSB). It features a 17-inch TrueLifeTM widescreen display, and is powered with NVIDIA's never-before-seen 256MB GeForceTM Go 6800 Ultra graphics card. This is available today only through Dell. The Inspiron XPS Gen 2 includes a dedicated subwoofer designed to significantly enhance movie, music and game sounds.

There is also a dedicated support queue for XPS customers and a graphics upgrade path. Dell's promises to provide the customer with an optional graphics upgrade if a new graphics card is introduced.

Other features include Dell MediaDirect, for quick access to multimedia content from a hibernation, standby or powered-off mode via the front-and-center navigation keys. The XPS uses Windows(R) XP Media Center Edition 2005 for easy access to movies, music and photos.

A further reflection of the 'lifestyle' nature of the XPS Gen 2 is that Dell is offering an optional backpack, specially designed for the new gaming machine.