LIFEBOOK S7020 To Expand Fujitsu-Siemens Made4You Personalization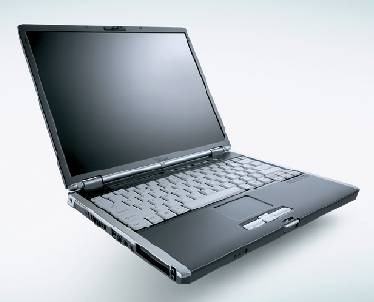 The S7020 LIFEBOOK from Fujitsu-Siemens (Picture: Fujitsu-Siemens)

2005-03-29 - Hannover, Germany: At the 2005 CeBIT exhibition, Fujitsu Siemens Computers, announced a new addition to its high-end notebook range with the LIFEBOOK S7020 Series. The LIFEBOOK S7020 Series, which will be available in May 2005, is accompanied by a range modular options which enable the frequent traveler to create a notebook to their personal requirements.

The S7020 Series incorporates the latest Intel(R) CentrinoTM Mobile Technology platform: the new Intel Pentium(R) M Processor generation and the Intel 915GM Chipset, which features faster memory technology to provide improved application and integrated graphics performance. In addition to the traditional interfaces, a separate PCMCIA ExpressCardTM slot has been included along with a PC card slot, enabling the LIFEBOOK S7020 to support existing and future notebook technologies.

"We are really excited to be launching the LIFEBOOK S7020, because it further extends our leadership in the high-end notebook segment," said a spokesman for Fujitsu Siemens Computers. "We have spent a number of years perfecting production techniques to enable us to offer customers the widest possible choice of features for their notebooks. We believe that the new functionality we offer in the LIFEBOOK S7020 gives customers the most choice in the market place."

Using Fujitsu Siemens Computers' built-to-order and http://www.fujitsu-siemens.com/products/made4you/index.htmlmade4you customizing service, the company can build notebooks that meet customers' requirements and ensure a longer life-cycle. There are three models all designed with differing 14.1-inch display types to reflect the various needs of mobile workers. Fujitsu-Siemens say that the LIFEBOOK S7020 can become the frequent traveler's best friend, meeting all the challenges facing today's mobile 'road-warrior'.

The LIFEBOOK S7020 series weighs 1.75 kg and features a crisp 14.1-inch display, which is available in three different formats (XGA Glare and Non-Glare and SXGA+). The modular bay system enables mobile workers to opt for a wide range of devices including CD/DVD/CD-R/RW drives or a multi-format DVD writer with double layer support (DVD+/RW DL Writer). Most importantly, the modularity of LIFEBOOK S7020 overcomes battery-life issues, because users can opt for a second battery, which means the notebook can be used practically all day.

An optional feature is integrated Intel PRO/Wireless Wireless LAN and Bluetooth V1.2 technology and two antennas to ensure the strongest signal available. Fujitsu are pitching the S7020 as a machine that allows mobile users to always remain in contact with their office, no matter what the circumstances.

Fujitsu Siemens Computers now also offers the AVM ISDN-Controller FRITZ!Card Express as an accessory, which is the first ISDN solution for the PCI-Express standard for notebooks. Unlike legacy PC cards this PCI Express card offers a new high speed connection in the compact format which is compatible for notebooks.

Security is a major concern for the mobile user and the LIFEBOOK S Series comes with a number of features to guarantee the highest levels for security to protect user and company information. The five hardware buttons on the security panel can be used to enter an access code, which is prompted when the system is booted. The buttons can then be used as quick touch buttons for speedy access to important functions or specific applications. A smart card controller is integrated in the PC card slot to allow simple use of a smart card. The optional SecureIT suite offers a series security features, including Windows access protection with SICRYPT SMARTY, file encryption for data protection and password protection with SmartCase (TM), email encryption with SmartCard and SystemLock for pre-boot access protection with SmartCard to block unauthorized booting of the notebook. The hard disk drive is also password protected to prevent fraudulent use of any stored data. In addition the Infineon Trusted Platform Module (TPM) with out-of-the-box encryption software and interfaces supports security solutions that identify the LIFEBOOK S7020 on a company to enable secure transactions.

Ease-of-use and comfort remain important features of this latest notebook, with a 14.1-inch display, in XGA or SXGA+ resolution, depending on the model chosen. The notebook also offers the dual pointing device with an integrated touchpad with 3 buttons, as well as an integrated touchstick, which helps to increase ease-of-use and the user's productivity. According to Fujitsu Siemens, the S7020 had to pass over 50 different extensive quality tests to ensure its durability , despite its light weight. As an added protection, customers can specify hard disk drive shock absorbers to minimize data loss and guarantee higher reliability for stored data. A wealth of interfaces, ranging from Firewire (IEEE1344) to a media slot for SD or MS memory cards assures instant connectivity to a wide range of accessories. The optional port replicator, which is compatible with other LIFEBOOKs, makes connecting to the office LAN and external monitor a snap.

The LIFEBOOK S7020 also comes with the client management tool DeskView(R) for easy and remote administration of the notebook. In addition Fujitsu Siemens Computers offers IT managers the option of the ManageIT Suites using Altris software solutions for migration and control of multiple notebooks in corporate environments. More complex solutions, such as the migration of operating systems, the remote installation of application software, advanced hardware and software inventorying in multiple networks, and license management, can be realized with the optional ManageITSuite Migration and ManageIT Suite Controlling.