Room With No View? Try This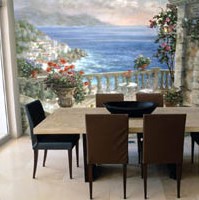 An example of the type of mural image possible with Murals Your Way

2005-03-29 - Hopkins, MN, USA: If your living room faces a car parking lot, or your bedroom overlooks the local oil refinery, you might want to consider a wall mural that transports you away to rolling hills in Tuscany or a sandy beach in Hawaii. Even if you live in a pleasant country location, you could still use a wall mural to reflect the natural world outside. Of course, the image used does not have to be a landscape. In theory, any image could be enlarged and printed on a mural.

One company that offers customers personalized wall murals is Murals Your Way. Yesterday, they unveiled the world's largest collection of home decor murals. Now, with murals to fit every price range, interior designers and do-it-yourself home owners can turn bare walls into their own personal oasis in just a few simple steps.

Murals Your Way offers over 3000 size customizable home decor murals to fit every price range. Featured on popular interior design programs such as "Extreme Makeover-Home Edition," "Queer Eye For The Straight Guy," and "Trading Spaces," Murals Your Way murals are fueling this hot new interior design trend.

"Murals are a hot new trend in home decor," says Todd Imholte, president of Murals Your Way. Murals Your Way offers size customizable stock murals in every category, including children murals, tropical murals, animal murals, current artists, old masters, vintage European posters, and many more. They also offer fully customizable murals that can be made from the client's photo or artwork. There are virtually infinite possibilities with prices starting as low as $129.

For a customer interested in a custom mural, Murals Your Way first take the chosen image and measurements, review it and give the customer a quote. They can then send a sample of what the finished mural will look like, so the customer can be sure they are happy before the order is processed.

For custom murals, the price is $8.95 per square foot, with a minimum size of 24 sq. ft. For images taken from the Gallery, the minimum size is 4ft X 6ft, or 3ft X 8ft for panorama images. Gallery images are charged at $7.95 per square foot. All murals are printed on high-quality wallpaper stock. Custom murals are shipped within 10 days of order confirmation.

"The hottest trend today in home decor is to surround the occupant in personalized comfort and convenience," says Laura Sidwell, of Possibilities of Design. "One sure way to do this is to use a wall mural that transports the occupant to their favorite time or place."

For additional information contact Murals Your Way (toll free in U.S.) at 1-888-295-9764 or visit www.muralsyourway.com. Murals Your Way is a division of Environmental Graphics, the largest manufacturer of murals in the world.