Fido Goes to Hollywood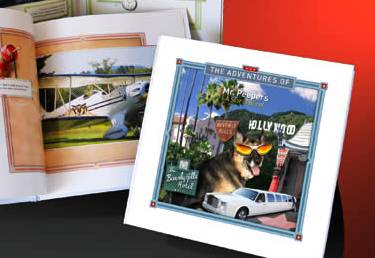 'A Star Is Born', the new book form My Personal Pet Book

2005-04-06 - Santa Monica, CA, USA: There are numerous enterprises in the US and other countries who offer personalized books which can include your child as a star of the story. But how often do you see a company that publishes books starring your dog or cat?

"My Personal Pet Book", based in Santa Monica, has announced its newest story, "A Star is Born," where your pet becomes a Hollywood star. Window shopping on Rodeo Drive? On a billboard above Sunset Boulevard? Appearing at its own gala movie premiere? It's all here in this new addition to the line of "My Personal Pet Book" stories.

"My Personal Pet Book" is an innovative 32-page, 10" x 10" story book, where your pet becomes the star of its own adventure. The books are hard-bound, and in full colour. "My Personal Pet Book" is personalized by carefully integrating selected photographs of your dog or cat into one of the fun stories available. Titles available are "Rendezvous at the Zoo," "Fun in the Jungle," "Lost & Found" (a two-pet story) and the new story, "A Star is Born". To order a book, you must pick one of the adventure stories, and send 12 - 15 photo files of your pet for that story. The finished book is delivered about 3 weeks later.

The idea came to Ken Halloway while he was working on a gift for some good friends with a very old cat they adored and which was in the last stages of life. The first book he made was very simple, unlike the current range. But the magic it sparked told Halloway he was onto something and from there he came up with the idea to create affordable full-colour, personalized pet books starring pet owners' cats and dogs. "There truly is nothing like this on the market today," said Halloway.

The books are aimed at pet lovers of all ages. Customers can create one for themselves or a friend. They could alsotake photos of a friend or family member's pet without them knowing and have a book made for them as a surprise gift. Gift certificates are also available to give to friends who can create their own book. To buy a "My Personal Pet Book" costs $67.95.