NUR Macroprinters Launch New Modular Flatbed Inkjets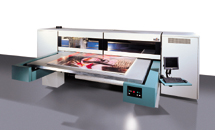 The NUR Tempo wide-format inkjet press (Picture: NUR Macroprinters)

2005-04-06 - Lod, Israel: NUR Macroprinters (Nasdaq:NURM), which produces wide-format inkjet production printing systems for the out-of-home advertising market, has announced new modular configurations for its NUR Tempo(TM) flatbed inkjet presses.

NUR serves customers in many different areas of printing, including commercial printing companies, sign printers, screen printers, billboard and media companies, photo labs, and digital printing service providers.

With the new modular NUR Tempo configurations, customers that need to print high-quality color directly on a wide variety of wide-format rigid or flexible substrates can choose from three base configurations that print in either 4, 6 or 8 colors. To this base configuration they can add features, choosing from a selection of new options including printing with white ink, custom spot color printing and selective varnish, to build a NUR Tempo configuration that best addresses their production requirements. A roll-to-roll option for printing on roll-fed media is also available for the machine.

"Recently we have seen increased demand for an entry-level machine that potential customers can add to as they gain more experience and their needs grow more sophisticated," says David Amir, President and CEO of NUR Macroprinters. "The new modular and expandable NUR Tempo capabilities were designed to meet this need. They make a high end platform accessible to a larger audience at a lower initial outlay while retaining the ability to reach high-end performance when required."

Itay Shalit, director of marketing at NUR Macroprinters, Ltd., added, "In addition to offering photo-realistic image quality and the largest output format of any flatbed inkjet press, our popular NUR Tempo flatbed inkjet press is now available in modular configurations which customers can customize with the unique combination of features, versatility and flexibility they need today. They get a machine that's tailored for their production requirements at a capital investment level that is optimal for their budget. In addition, they can easily expand and upgrade the machine as they grow or their needs change so they don't have to worry about technological obsolescence."