New 'Third Screen' ViseonMedia Device to Bridge Television-Computer Gap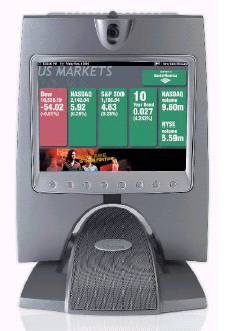 An image of the VisiFone MM device by ViseonMedia

2005-04-06 - Dallas, TX, USA: Viseon, Inc. (OTCBB:VSNI), has announced the formation of a new, wholly owned subsidiary, ViseonMedia (VMN, LLC). The separate entity will be the exclusive provider of sponsored TV-quality content to VisiFone(TM) Multimedia digital home telephone users worldwide. The VisiFone Multimedia (VisiFone MM) digital telephone for VoIP is the new content delivery platform capable of displaying fully interactive video and digital audio without the complexities of a personal computer in addition to its digital telephone/videophone functionality.

ViseonMedia will deliver news, entertainment, and information content to VisiFone MM users around the globe. Consumers will be able to choose to view personally customized news, sports, weather, and entertainment as well as control the features of their VoIP services on the screen of their VisiFone MM. ViseonMedia content on the VisiFone MM is not designed to replace the television or the web portal experience; instead, it is a dedicated third screen within the home on which consumers can automatically view specific personalized information on their schedule. This customized "casting" of rich media through the VisiFone MM is only now possible due to the increased bandwidth of today's high-speed broadband services. ViseonMedia's parent company is a global developer of broadband personal communications solutions for Voice Over Internet Protocol (VoIP).

The possibility of establishing a 'third screen' in households, in addition to the television and personal computer, does have a certain appeal. The personal computer has one significant obstacle as a communication medium - it has to be switched on. Very few households have a machine running all day and all night. Leaving a device such as the VisiFone MM switched on or on standby allows the instant responsiveness of a television to be combined with computer-style functionality. Where speed is the key, if the user can view information on a VisiFone MM, they are much more likely to do so than go to their PC.

A good way of illustrating this can be called the 'one finger test' - if a user can find information by pressing a button with one finger, they will choose this method rather than use a keyboard to log in, type passwords or select options.

Viseon, Inc. was founded in 1993 and is a developer and manufacturer of patented personal broadband communications systems. Viseon products have been sold under various brand names around the world including Philips, VTEL, and Gentner. Viseon works with carriers to position VoIP as a premium service versus the Public Switched Telephone Network (PTSN). ViseonMedia have their own acronym for analogue telephone service: Plain Old Telephone Service (POTS). The company aims to ultimately replace the analog telephone by bringing digital telephony quality to the broader public.

"The capability of consumers to view customized news, weather, sports, and information automatically at specific times of the day, is unique to the VisiFone," explained J.D. de Haseth, president and chief executive officer of ViseonMedia. "The personalized content will be sponsored by best in class marketers delivering uniquely targeted, relevant messages on a home by home basis. Even more importantly, messaging viewed on the VisiFone enables consumers to interact instantaneously using a communication tool they have been accustomed to for the past century, their home telephone." Mr. de Haseth was previously the co-founder and executive vice president of Softbank Marketing Solutions and formerly director of direct and database marketing at Hewlett Packard.

This facility for personalized content will be likely to appeal to consumers who could view their chosen topics quickly, for example over breakfast in the morning.

ViseonMedia, its content providers and marketing partners will participate in a planned pilot of the VisiFone Multimedia concept by offering programming in late 2005 to a select group of new VoIP subscribers throughout the United States. Content providers will include cable channels, local and national broadcast networks, web portals and print media. ViseonMedia plans a full roll-out on a carrier by carrier basis in 2006. It is expected that carriers will share in revenues generated by sponsors based upon their overall purchases and penetration rates of VisiFones within their VoIP subscriber base. The basic ViseonMedia service is expected to be free to consumers, included in their monthly VoIP subscription fee. Premium content may be available at the subscriber's option for a small fee. ViseonMedia's distribution agreements with various content providers and sponsorship agreements with national advertisers and retailers will follow shortly.

John Harris, Viseon, Inc. president and CEO added, "By allowing consumers to choose what they want to view, when they want to view it, we allow our VoIP carrier partners to deliver another compelling feature for their VoIP service offerings. Given the breadth and intensity of interest we have received from sponsors, we believe that ViseonMedia can provide significant recurring revenue opportunities for both our carrier partners and for Viseon, Inc."

Viseon, Inc. has filed a number of patents relating to ViseonMedia and its business concepts, functionality and features. ViseonMedia expects to offer sponsored content and extended interactive services to VoIP carriers and consumers both in the U.S. and abroad.

The deployment of devices that bridge the gap between computer, television and telephone is not entirely new. In France, the Minitel system pre-dated the internet by many years. This service allowed telephone service customers to carry out limited functions on a dumb terminal machine, which received data over the standard analogue telephone system.

The target market for Viseon's VisiFone is the 150 million global consumers which are projected to switch to VoIP in the next five years. Other markets for the VisiFone include corporations, universities, and government agencies.