Carry Your Sister's Mustache!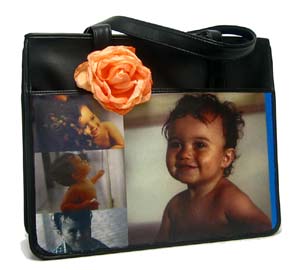 A 'Your Sister's Moustache' bag personalized with baby pictures

2005-04-12 - New York, USA: Your Sister's Mustache, a handbag and accessory company that utilizes paper-based materials in their unique and bold graphic designs, has answered the call to customization and personalization with their "Build-a-Bag" tote and handbag launch for Mother's Day. According to the owners, Maria Capotorto and Lisa Losasso, the company receives requests daily through their website www.ysmny.com to create individual designs based on customers' pictures of family, weddings, pets, special events and mementos.

They explain that it's not surprising considering the boom in painted pottery workshops, jewellery making and scrapbooking, stating "Customers want to design something that is uniquely their own." They also cite as an example Build-a-Bear Workshop(R), the company which operates stores where people can make their own soft toys.

Losasso says they have an edge on the pricier custom photo bags that are on the market because of YSM's process that utilizes paper and industrial strength materials while maintaining a quick turnaround time. She explains that the price point is not only lower, but that the customer has infinite more possibilities for creative design vs. simply providing a photo.

Their online store launched in 2004 which led to their realization of a consumer demand for individual customization. The two determined that Mother's Day would be a perfect time to officially launch their "Build-a-Bag" concept. They suggest that customers place their order by April 20th for Mother's Day delivery. Capotorto sees the perfect union of scrapbooking and fashion stating, "Customers can send us a page directly from a scrapbook and we will replicate it on the handbag. The customer will receive their original "artwork" with the shipment of their newly designed bag. Why keep these memories inside of a book? It's a fun way to express individuality and a great idea not only for Mother's Day, but for weddings, showers and graduations." Your Sister's Mustache has designed and distributed their handbag collections to boutiques and specialty stores throughout the US and Europe and is an official licensee of Disney. Their signature, "Newspaper Tote" utilizes recycled newspaper and goes against the grain of mass produced materials. The company has designed custom totes for corporate clients such as Goldman Sachs, Victoria's Secret, Miramax and American Ballet Company as well as numerous museum companies.

Customers can design a bag using photos, a page from a scrapbook, digital images, collages, actual newspaper articles (not copies but the actual newspaper), and any other materials that the company can copy and then use as to design the bag. The size of the bag can be specified up to a maximum of 11in x 17in. Most customers go with the 11x13x4 size on the totes.

The ysmny.com website does not yet have a product configurator for the bags. To 'Build-a-Bag', customers email the company at custom@yoursistersmustache.com. They will then receive an order form and instructions for choosing their style and embellishments and how to submit the artwork. The designs are priced between $30.00 and $80.00.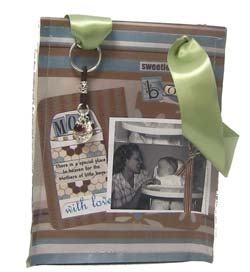 A 'Your Sister's Moustache' customized tote bag