Build-to-Order Velocity Micro is First to Market with 4.0 GHz Dual Core PC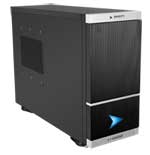 Velocity Micro dual core system.

2005-04-20 - Richmond, VA, USA: Velocity Micro(TM), a manufacturer of high performance PCs (whose products are all built to order with numerous optional configurations), announced that it has released new systems based on the Intel(R) Pentium(R) Processor Extreme Edition 840. Velocity Micro is the first North American PC manufacturer to ship dual core systems to consumers with processor speeds up to 4.0 GHz.

The systems will ship with processors at the native clock speed of 3.2 GHz, or performance tuned up to 4.0 GHz with the use of the company's LiquiCool(TM) fluid cooling technology. Velocity Micro introduced its new DCX series with four dual core system models initially: the Raptor(TM) Extreme Edition DCX ($3995) and the Gamer's Edge DCX ($2995) are the first gaming systems, while the ProMagix(TM) DCX ($2965) is a consumer multimedia system and the ProMagix W140 DCX ($3195) will be the line's first professional workstation for digital content creation, animation and 3 dimensional graphics.

"Releasing our DCX systems for sale this morning is an integral part of Velocity Micro's first to market position," Randy Copeland said early Monday morning. The president and founder of Velocity Micro noted that, "Using the capability of the Intel Pentium Processor Extreme Edition 840 to maximize its performance is something our customers expect of us. The multitasking capabilities of these new systems will satisfy the most demanding power user or anyone craving the newest technology advances for a longer ownership experience."

"Powered by Intel's first dual-core processor-based platform, Velocity Micro's systems ought to take consumers' enjoyment of music, photos, videos and games to a new level," said Don MacDonald, vice president of Intel's Digital Home Group. "These systems will provide the power enabling people to do more with their computers."

DCX Series systems will also be based on the Intel 955X Express chipset. The Intel 955X Express chipset supports the latest dual core functionality and the combination of this chipset and dual core processor delivers an outstanding PC platform with the performance to run today's most compute- intensive applications and the scalability for new consumer usage models. Velocity Micro gaming systems will also be available with the new NVIDIA(R) nForce4(TM) SLI chipset motherboard technology for users seeking to utilize dual graphics cards simultaneously for more realistic game play.