Lexar Media Announce Engraving for New USB Flash Drive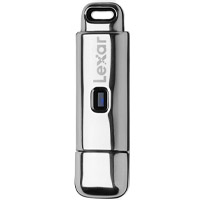 The JumpDrive Lightning USB flash drive from Lexar Media

2005-04-20 - Fremont, CA, USA: Digital media and accessories company Lexar Media, Inc. (Nasdaq: LEXR), recently introduced JumpDrive(R) Lightning, the latest addition to its vast line of USB flash drives. Portable devices are normally very functional in design, but Lexar Media have taken a different approach with JumpDrive. JumpDrive Lightning is a portable storage device that features a striking stainless steel design. Coinciding with its introduction, all customers ordering JumpDrive Lightning from www.lexar.com will be offered free engraving.

Said Bobby Billman, vice president of marketing, Lexar: "JumpDrive Lightning is our new flagship USB product, and it reflects our commitment to offering uniquely designed products geared toward every consumer's design sensibility. JumpDrive Lightning's leading-edge performance capabilities are matched only by its sophisticated design, and our new engraving service adds a fun and useful personal touch."

Lexar's JumpDrive Lightning brings a new 21st century twist to the age-old practice of personalized engraving. JumpDrive Lightning features a highly polished stainless steel case with a special area reserved for a permanent message, suitable for gift sentiments, monogrammed initials or other personalized touches. Customers who order the device from Lexar's website will be able to receive a personalized laser engraving of up to 20 characters for no additional charge.

Lexar's JumpDrive Lightning haswrite-speed capability of up to 120x (18MB/sec) and read-speed capability of up to 160x (24 MB/sec) and massive (up to 2GB) storage capacities, which make it ideal for business professionals and anyone requiring extra high performance to transfer, save and carry digital pictures, music, presentations or other large files.

For added convenience, JumpDrive Lightning includes software to synchronize files between a PC and the USB flash drive, putting the most current data at a user's fingertips at all times. In addition, easy setup preferences can include or exclude subfolders or filter specific file types to be synchronized.

JumpDrive Lightning also provides data security, with flexible options to help keep important data safe and protected, even if the drive is lost or stolen. JumpDrive Lightning offers both password-protected and public storage areas on the drive. The public area is accessible by anyone using the drive, while the private area is password-protected and encrypted with 256-bit AES. This makes it possible for users to easily share files, while at the same time limit access to sensitive or private information.

JumpDrive Lightning is available in 512MB, 1GB, and 2GB capacities with the highest read/write speeds reserved for the 2GB model. All capacities are compatible with PC and Mac operating systems, however security and file synchronization features are compatible with Windows 2000 and XP only. JumpDrive Lightning is currently available at a suggested retail price of $279.99 for the 2GB model.