Even Gift Wrap Doesn't Have to be Off-the-shelf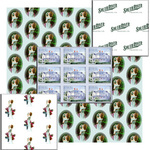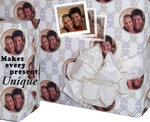 Examples of personalized gift wrap from PicturePaper.com

2005-04-20 - Ashburn, VA, USA: Specialist gift wrap company PicturePaper.com has announced two major enhancements to its personalized gift wrap offerings available at www.PicturePaper.com. The site now features a special category for engaged couples, wedding planners or anyone preparing for a wedding, as well as a separate category focused on the needs of artists, photographers and graphic artists. Combined with the existing PicturePaper(TM) gift wrap offerings, over 100 unique designs can be merged with the customer's own images and artwork to create individualised gift wrap.

PicturePaper.com is part of South River Trading Company, a family-owned and operated business. Chuck and Pat Rothermel founded the company after a family holiday turned nostalgic as the children prepared to disperse across the country following the gathering. Aside from the printing, which occurs at company headquarters in Ashburn, Va., the business is entirely web-based, allowing all three now-grown children to participate no matter where they live. Chuck Rothermel formerly spent more than 30 years in the technology and printing industry as a project manager and business executive.

"We are creating a new medium for artists and photographers to use in displaying and distributing their art for either personal or commercial venues," said Chuck Rothermel. "We have also structured a special area for the engaged couple to create presents of distinction for their wedding party and for each other. It will be interesting to see how soon the users combine the two - the professional photographer or artist creating an original gift wrap design for the Bride and Groom."

PicturePaper.com continually updates its gift wrap designs, keeping their wrapping paper offerings fresh and dynamic. Selections now include choices for weddings and anniversaries, artists and photographers, babies and infants, birthdays, romance and celebrations like graduation and Mother's Day. All of these designs, exclusive to www.PicturePaper.com, allow the sentiment of the moment and the beauty of the art to be incorporated into unique wrapping paper by blending the image onto the gift wrap with a few clicks of a mouse. The personalized gift wrap is then delivered in just a few days.

The PicturePaper.com online configurator enables customers to upload a picture from their computer, place it on a selected wrapping paper background, arrange their picture for a custom fit and view a representative sample. The comapny says that the entire uploading, fine-tuning and ordering process takes only a few minutes.

Each order from www.PicturePaper.com goes directly to the company's printing headquarters in Virginia, where the design is individually printed by high-end, six-color printers. Every order is inspected by hand before it is rolled and prepared for shipping. Most orders are printed within two days and delivered between one and three days later. Customers can track the printing and shipping of their order through the website, and payment can be made using either VeriSign, Inc. or PayPal to ensure customer security.