PhotoStamps Returns - Tighter Rules Aim to Prevent Use of 'Inappropriate' Images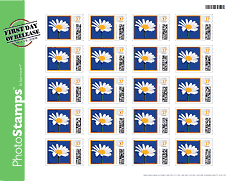 A sample PhotoStamps sheet with the collectors First Day insignia. Image:Stamps.com

2005-05-06 - Los Angeles, CA, USA: Stamps.com(R) (Nasdaq:STMP), has re-launched PhotoStamps(TM), the popular form of postage that allows consumers to turn their digital photos, designs or images into valid U.S. postage. The PhotoStamps programme had previously been suspended 'for review' by the U.S. Postal Service. This was interpreted as dis-satisfaction on the part of the Postal Service with the level of inappropriate use of the service during the previous trial. Users had managed to get pictures of various infamous World figures printed on Photostamps.

PhotoStamps is expected to be available under authorization of the U.S. Postal Service for a year-long market test beginning May 17, 2005. Stamps.com will begin taking preorders immediately for PhotoStamps at its Web site www.photostamps.com. All preorders placed until and May 16, 2005 will receive a special collectible first day of release insignia, and will be shipped at the beginning of the test.

During the initial market test from August 10 to September 30, 2004, more than 2.75 million individual PhotoStamps were ordered. "Consumers embraced PhotoStamps from the very first day of the initial market test," said Stamps.com president and CEO Ken McBride. "PhotoStamps offer parents, grandparents, pet lovers, travelers and hobbyists, a great way to share their favorite digital photos. We are very excited about PhotoStamps' return."

People can use PhotoStamps to create customized postage with pictures of their children, pets, vacations, and so on. PhotoStamps can be used as regular postage to send letters, postcards or packages and is currently available for the most common mail rates in denominations ranging from $0.23 to $3.85. Each sheet includes 20 individual PhotoStamps.

To order, consumers upload a digital photograph or image file at www.photostamps.com, customize the look and feel by choosing one of ten different border colors to complement the image, select the value of postage and place the order.

With the new market test, Stamps.com is introducing a redesigned look for PhotoStamps with a more aesthetically pleasing appearance. The overall dimensions of each individual PhotoStamp remain unchanged at 1 3/8 inches high by 1 7/8 inches wide. Stamps.com is accepting personal images and photos that meet its content guidelines, including babies, children, teens, adults, pets and other personal images. Users who order PhotoStamps must explicitly agree to abide by the PhotoStamps Terms & Conditions.

Among the restrictions, users are prohibited "To upload, order for print, or otherwise transmit or communicate any material that depicts celebrities or celebrity likenesses, regional, national or international leaders or politicians, current or former world leaders, convicted criminals, or newsworthy, notorious or infamous images and individuals".

It will be possible for other suppliers to enter the personalized stamp market during the test period. On April 26 last, the U.S. Postal Service invited applications for PC Postage(R) vendors. To become an authorized PC Postage(R) provider, applicants must be able to prove the ability to generate high quality, computer-based postage or metered postage and demonstrate they routinely use secure encryption technology to protect postal revenue. Vendors who are approved may begin offering PC Postage(R) within 20 days of being authorized by the United States Postal Service.

"We're combining the trust people have in the Postal Service with the technology and efficiencies of the private sector to bring customized postage to our customers," said Nicholas Barranca, Vice President of Product Development. "Customized postage allows us to make mail more valuable and more meaningful to people."

One possible competitor to PhotoStamps is WeStampU, which has expressed an interest in participating in the new test. The German company offers a personalized postcard service, where the client uploads their chosen image and then fills in a message and the recipient's address. WeStampU then mails the completed card to the recipient.

Customized postage will be limited to personal use only during the one- year test.