Wal-Mart Launches Online Personalized CD Service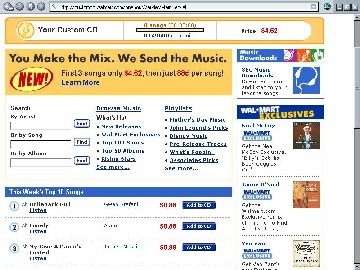 A screen shot of the customized CD service page from the Wal-Mart website

2005-05-06 - Brisbane, CA, USA: Wal-Mart (NYSE:WMT), the World's largest retailer, has announced the launch of its new online custom CD service, available at www.walmart.com/music. The new music service allows customers to select individual songs from a deep music catalog that Walmart.com then places on a personalized, physical CD sent to their address. The service is priced at US$4.62 for the first three songs and only 88 cents per additional song. A ten-song CD would cost $10.78. The new service is being aimed at those who wish to select and arrange their music choices and personalize a CD for themselves, their family or friends. Wal-Mart is also emphasising that the custom CDs don't require the use of a CD burner. It appears that the retailing giant sees an opportunity to market personalized music to those who have internet access, but may not have the use of a high-end PC. This could also include people who only have the use of a computer at work or school/college.

In addition, there may be a belief that the online music revolution has by-passed lower income groups, for whom the initial cost of an Apple iPod or personal MP3 player would be prohibitive when balancing the weekly budget is itself a challenge.

Wal-Mart say that customers can easily select tunes from an extensive, multi-genre catalog, personalize the CD title and packaging from a variety of images, and have it shipped to their address. Also, customers can choose from an extensive music catalog of new releases, top songs and albums, artists of the month, and Wal-Mart exclusives.

"We recognize music is not only important, but incredibly personal to our customers. At Walmart.com, our new online custom CD service delivers a convenient entertainment solution for customers to easily experience and enjoy music in a personalized format. Also, the service is readily accessible to customers without a CD burner or who prefer not to download music," said Kevin Swint, Walmart.com's director of media categories.

Added Swint, "Whether customers make custom CDs for their favorite road trip, birthday gifts for family and friends, or creative wedding favors, the service draws from an expansive catalog of hot new music releases, rock, pop, country, rap, R&B, and Wal-Mart exclusives to satisfy all music fans - at Wal-Mart's Every Day Low Prices."