Speaking Roses Patents Flower Embossing Technology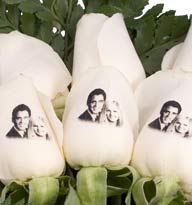 An example of Speaking Roses International's embossed roses. Image: Speaking Roses International, Inc.

2005-05-09 - Salt Lake City, Utah, USA: Speaking Roses International, Inc. (OTC:SRII), the company known for printing images and messages on live flowers, has been granted a patent by the United States Patent and Trademark Office, covering the process, machine and system used to print on flowers and other organic material.

Speakling Roses International is the first company to emboss messages and images directly onto the petals of live and silk roses. The products are used for gifts, corporate promotions, employee incentives, weddings and special events. Speaking Roses has production facilities in Salt Lake, Chicago and Miami and is available in Australia, Canada, Hong Kong and China.

"We have succeeded in achieving the company's mission of being the first to unite the greeting card and floral industries with personalized messages. Previously, you could buy a card with someone else's words or you could send flowers with a card attached, but only Speaking Roses has fused these two customs of communicating with unparalleled sentiment," said Blaine Harris, CEO of Speaking Roses. "Receiving this patent is yet another milestone in creating a new consumer product category with worldwide appeal."

Speaking Roses say that they use only the highest quality roses for imprinting. There are several messages to choose from, and there is the option to personalize a specific message. This patented technology can be used on roses and other flowers or plants of similar petal stability. The process is completely safe and environmentally harmonious.

No matter what you choose to say with your Speaking Roses or which special occasion you wish to celebrate, it is an exclusive expression that cannot be purchased off the shelf," said Bob Grove, Director of Communications at Speaking Roses.