CafePress.com wins Webby Award For Top Retail Site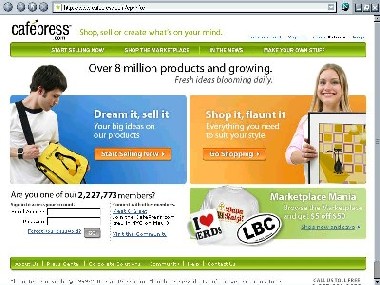 An image of the CafePress.com homepage

2005-05-10 - San Leandro, CA, USA: Online personalized product marketplace CafePress.com has been awarded the title of Best Retail web site of 2005 at The Webby Awards. The Webbys are the most respected awards for websites and are often referred to as the 'Online Oscars'. CafePress.com, an online marketplace with over 2 million members and as many daily page views, offers sellers complete e- commerce services to independently create and sell a wide variety of personalized products, and offers buyers unique merchandise across virtually every topic. CafePress.com beat finalists including major retailers Target.com and Home Depot to win the award.

A first-time Webby Winner, CafePress.com joins a growing list of companies including Amazon.com, eBay, Yahoo!, Evite, Meetup and Google - all recognized in the past by the Webby Awards as industry leaders. CafePress.com won the People's Voice Webby award in 2001.

Launched in 1999, CafePress.com calls itself "the intersection of entrepreneurship and self-expression". The CafePress.com business model is an innovative one. In addition to selling personalized products directly to customers, the company also acts as a producer for others who wish to market personalized goods. A business or individual (we will call them a 'partner') that wants to sell branded merchandise or personalized designs uploads images of logos etc. on the CafePress.com website and selects products on which those images should appear. They can then place links to those products on their own site, and revenue is shared between CafePress.com and the partner. No inventory is carried by the partner, and CafePress.com manages every aspect of doing business online, including storefront development, site hosting, order management, fulfillment, secure payment processing, and quality customer service.

Retail is a new category in this year's Webby Awards. In 2005, over 4,300 sites entered from all 50 U.S. states and over 40 countries.

"We are proud and honored to win this prestigious award," said Fred Durham, co-founder and CEO of CafePress.com. "We're particularly thrilled that CafePress.com, an entrepreneurial web site for creative entrepreneurs, has beaten two titans of American industry in this important, totally independent competition. Our site is designed and improved based on feedback from our millions of shopkeepers and customers, and this award recognizes their creativity and innovation and - to some degree - our ability to take that direction from a million entrepreneurs and creative folk and translate it into an obviously popular, dynamic marketplace for creativity."

The Webby Award winners are selected by the International Academy of Digital Arts & Sciences, a global organization with a membership that includes musician David Bowie, Virgin Group founder Richard Branson, The Body Shop president Anita Roddick, "Simpsons" creator Matt Groening, Real Networks CEO Rob Glaser, and fashion designer Max Azria.