SmartSwing Partners With Tom Wishon Golf Technology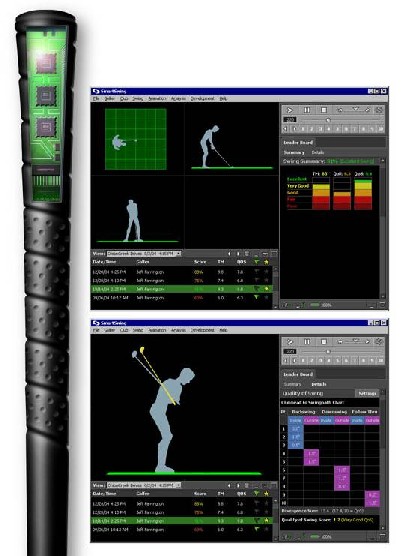 SmartSwing's swing measurement system is being matched with Tom Wishon Golf Technology custom clubmaking

2005-05-10 - Austin, TX, USA: SmartSwing, the intelligent golf club company, has announced a partnership with Tom Wishon Golf Technology, an industry leader in designing golf equipment and major provider to the custom clubmaking industry.

TWGT will utilize SmartSwing's technology to better customize components for club fitters and as well as enhance its own club-fitting and product development processes.

SmartSwing's new line of intelligent golf clubs contains patent pending technology, which for the first time allows a golfer to visualize and analyze their swing. During normal play or practice, SmartSwing clubs record all relevant swing data for future analysis. Using SmartSwing software in conjunction with our LS100 or LS300 series clubs, golfers have the unique capability to view their swing in a relative sense by superimposing it upon a known good or 'reference' swing. Sophisticated analytics allow for a detailed diagnosis of swing problems and learning progression from swinging on plane, to distance, to consistency.

"To be endorsed by Tom Wishon and his company is quite a coup for us, especially in light of Tom's extraordinary reputation in the golf industry," said Dick Eyestone, CEO and founder of SmartSwing. "We look forward to working with Tom and exploring new ways to help the club fitting industry."

Tom Wishon Golf Technology is regarded as one of the forerunners in golf club equipment innovation, specializing in clubhead, shaft, grip and clubfitting technology. In addition to creating high performance, industry- acclaimed designs for clubheads, shafts, grips and clubmaking/clubfitting tools and technology products, he has written literally hundreds of technical articles for golf and clubmaking publications around the world (inclduing Golf Digest, GOLF, GolfWeek, Golf World, Clubmaker magazine, Clubmaker Digest, Professional Clubmakers' Society Journal). He has authored six books on clubmaking, shaft fitting and research, and custom clubfitting. His most recent book, "The Search for the Perfect Golf Club" helps golfers of all levels better understand what is significant and what is hype when it comes to golf equipment and performance.

Wishon echoed Eyestone's excitement, welcoming the opportunity to work with SmartSwing.

"SmartSwing offers very valuable technology to the industry when it comes to instantly acquiring data and providing feedback on a golfer's swing. With this data, club fitters can do a much better job of specifying the correct equipment for golfers of all skill levels," said Wishon. "With the addition of SmartSwing's technology, we will continue to develop the most up-to-date and helpful clubfitting technology in the industry."